264 Indonesian-American Marines Exercise Together in Situbondo
By : Herry Barus And Aldo Bella Putra | Friday, September 08 2017 - 13:00 IWST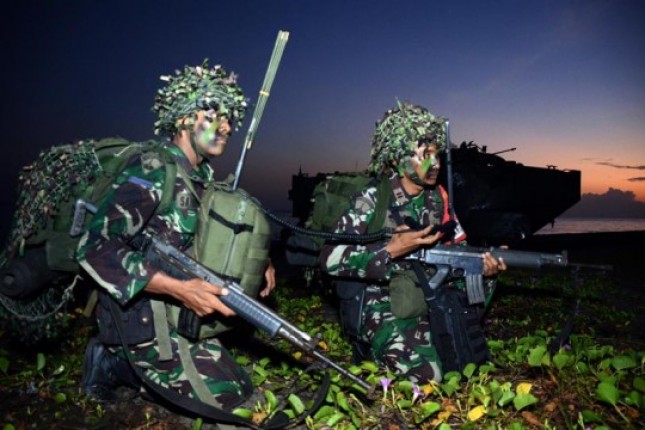 Ilustrasi Marinir latihan tempur di Situbodo Jatim (Foto Ist)
INDUSTRY.co.id - Situbondo- A total of 264 Marine Corps soldiers with US Marine Marines (USMC) were involved in joint war exercises at the Baluran Marine Corps Training Center, Karangtekok, Situbondo, East Java, starting Thursday (7/9/2017)
The Marines training exercise, which is part of the 2017 Cooperation Afloat Readiness and Training exercise (CARAT), begins with the opening by the Lt. Colonel Practice Officer Mar Prasetyo Pinandito representing Asops Kasal Rear Admiral TNI I.N.G.N Ary Atmaja.
Of the 264 soldiers, 160 Indonesian Marines and 104 personnel from the United States Marines.
Asops Kasal Rear Admiral TNI INGN Ary Atmaja in his speech read by Lt Colonel Practice Officer Mar Prasetya Pinandito mentioned activities that are part of a joint exercise between the Navy and the US Navy encoded "Coorperation Afloat Readiness And Training" (Carat) 2017 this has many important meanings that not only enhance the naval professionalism of both countries.
"But it also enhances and strengthens the good relationship between the Indonesian Navy and the US Navy," he said.
The 2017 Carat Training, he said, is a field implementation of bilateral cooperation in defense between Indonesia and the United States with the aim of improving quality, professionalism and maritime cooperation.
"The focus is on cooperation and the ability to carry out joint operations, joint sea and air operations, joint exercise of marine security and social activities," he said.
He expressed his conviction that the 2017 Carat Exercise will improve bilateral relations between the two countries, mutual understanding and make a positive contribution to strengthening the nations' two nations' relations.
Asops Kasal also expressed his gratitude to all trainees from the Indonesian Navy - America, especially the Marines directly involved.
"I remind, which is no less important is the security factor priority, so the exercise is really zero accident," he said.
Meanwhile, Lieutenant Colon Mar Prasetyo Pinandito said the activity material to be trained is to shoot the rifle, shoot 60 mm Mortars, GPMG, sniper, survive in the middle of forest, defense, patrol and raid. The exercise was held at Puslatpur Marine Corps Baluran and Selogiri.
"In addition to the practice, will also be held joint sports activities and fun games, with the aim to strengthen the relationship Marines Brothers," he said.
Also present on the occasion were USMC Lt. Col. Lt. Col. USMC Salame, officers from Itjenal Lieutenant Colonel Mar Hermawan Prasetyo Budi, officers from Marine Corps Inspectorate Lieutenant Colonel Mar Budi Setyono, Paban Sops Pasmar-1 Lieutenant Colonel Mar Kusyuwono and officers from SPS Kormar Maj. Marinir Arif Bastian.
The arrival of American Marines (USMC) landed at Tanjung Wangi Harbor, Banyuwangi, on September 6, 2017 using the USNS Millinocket vessel. Then from Tanjung Wangi they shifted to the Battle Training Center (Puslatpur) Marine Corps Baluran.