President Jokowi Confident of Targets 1.800 Kilometer Toll Road Reached
By : Herry Barus And Aldi Firhand. A | Tuesday, September 26 2017 - 05:30 IWST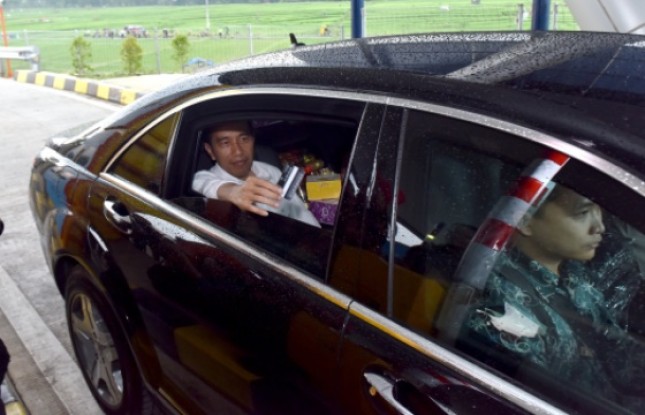 President Jokowi tried Semarang Solo Toll Road Section III: Bawen Salatiga, at Salatiga Toll Gate, Tingkir Tengah Village, Tingkir Sub-district, Salatiga City, Central Java, Monday (25/9) afternoon. (Photo: Humas / Jay)
INDUSTRY.co.id - Salatiga- President Joko Widodo is confident that the new 1,800-kilometer toll road development target can be achieved by 2019.

"I asked the Minister of Public Affairs (Public Works and People's Housing Basuki Hadimulyono)) the 2019 estimate could be an additional number of kilos? It can be estimated at approximately 1800 kilometers later, it means that we can speed it up," said President when inaugurating Solo- Semarang Section III Bawen-Salatiga, Monday (9/25/2017)

Jokowi said three years ago had asked the Minister of PUPR that Indonesia only has 780 kilometers and lost to neighboring countries whose toll roads are longer.

"Our ten years is only 780 kilometers, whereas China is one year can be 4000 to 5000 kilometers per year, we do not know how many hundred thousand kilometers toll in China," said Jokowi.

The President said Indonesia was the earliest to build a toll for the Asian country, where the Jagorawi Toll has been imitated many countries.

"Once on the Jagorawi toll road we had around 77. Everyone came to see the Jagorawi toll, we saw the imitation of his management, imitate his construction, all of them imitate the countries around us, but they already have thousands of miles we are still 780 kilometers," the President said.

Jokowi acknowledged that the slow development of this toll is due to land acquisition problems.

"Now that we have seen the key, the key has been met, if the construction turns out that we have not lost the origin of the land," he said.