Karpowership Gives Computer Laboratory to South Minahasa Society
By : Hariyanto And Aldo Bella Putra | Wednesday, September 27 2017 - 21:00 IWST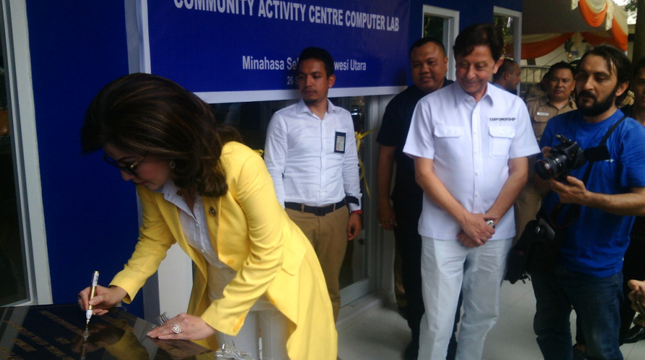 Karpowership Serahkan Laboratorium Komputer Untuk Masyarakat Minahasa Selatan
INDUSTRY.co.id - Amurang - PT Karpowership Indonesia (KPI) handed over the Center for Community Activities, Computer Laboratory to South Minahasa community. The first stone-laying building in December 2016 was handed over by Asia Pacific Karpowership Director, Ufuk Berk and received by South Minahasa Regent Christiany Eugenia Tetty Paruntu in Amurang (5/12/2016).
The series of events led by South Minahasa Regent Christiany Eugenia Tetty Paruntu was also attended by Febri Hartanto representing PT. PLN Persero. In addition, the ranks of local government officials of South Minahasa District such as the Head of Information Technology and Head of South Minahasa Education Office and its staff are also present at the event which will involve the Amurang community.
Regional Director of Karpowership Indonesia, Ufuk Berk in his speech said the culmination of this series of activities is the development of computer laboratory for the Amurang and surrounding communities.
"This is the first computer laboratory we built in Indonesia in cooperation and support from the government of South Minahasa District. The building has an area of ​​340 Square Meters with 16 (sixteen) computers supported by a free wifi device to access the internet." said Ufuk Berk, as Asia Regional Director of PT Karpowership Indonesia in Amurang, Manado, on Tuesday (5/9/2017) .
"The first Computer Laboratory was established in Lombok by transforming and renovating an existing building.The computer laboratory in Amurang was the first to be built in Indonesia, with the support and cooperation of the South Minahasa regency government Area 340 Square Meters with 16 (sixteen) computers, which is supported by free wifi devices for internet access, " said Ufuk Berk.

As a contribution to education in the Amurang region, Ufuk added that the purpose of this Computer Laboratory development is to enable citizens and students to access various information needs more easily. Furthermore, the building and its contents will be submitted to the Government of South Minahasa Regency to be managed for the benefit of the community.
"We hope that the Community Activity Center - Computer Lab (Center for Community Activities - Computer Laboratory) can be useful and can improve the quality of education in South Minahasa. And the students can be more innovative and creative to build their area. In the future the students can have more opportunities to excel not only at national but also international level, " concluded Ufuk.
PT. Karpowerhip Indonesia is a subsidiary of Karadeniz Holding, a pioneer of innovative energy projects that have been actively involved in medium and long-term investments in local and international markets over the last 20 years.
This Turkish company started investing in the energy sector in Turkey and since 2003 was the first private power exporter that has supplied more than 27 billion kWh of electricity worldwide. Since 2010, nine vessels have been built with a capacity of more than 1,500 MW.
Karpowership is the sole owner, operator and fleet maker of Powership (floating power plant). Since 2010, 13 Powership has been completed with total installed capacity exceeding 2,700 MW and 20 vessels are still in the manufacturing process. The additional capacity of 5,300 MW is under construction.