Welcomes 35th Anniversary, G-SHOCK Presents Limited Collection of BIG BANG BLACK
By : Hariyanto And Aldo Bella Putra | Saturday, September 30 2017 - 17:00 IWST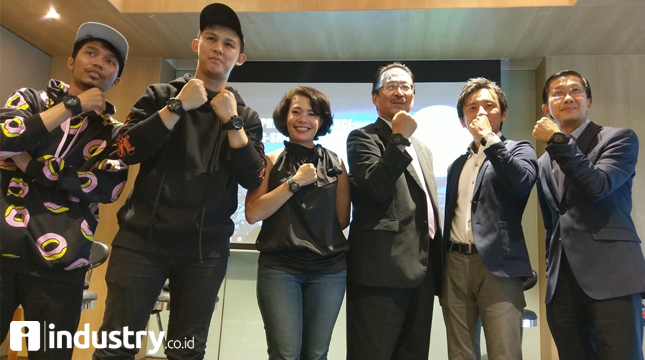 G-SHOCK Hadirkan Koleksi Terbatas BIG BANG BLACK
INDUSTRY.co.id - Jakarta - The creation of Casio G-SHOCK began in 1981 when CASIO technician Kikuo Ibe challenged the layman's notion that watches are merely broken timepieces.
It takes two years and 200 prototypes before the G-SHOCK was first launched in 1983, until it finally went through
The process of evolution unstoppable with the concept of Toughness Without Borders (Absolute Toughness).
Advisory Engineer of Product Strategy Planning, Timepiece Product Division, CASIO, Shinji Saito on a talk show with the media explains, G-SHOCK will enter its 35th year in 2018. The remarkable development of hollow structure technology with urethane cover and a series of technologies the shock retardation of G-SHOCK has been a major factor in consumer love, and we, ourselves, against this sturdy watch.
"The popularity started in the outdoor workers, but over time the love grows among sports enthusiasts, fashion workers and even musicians and other artists," he said in Jakarta, Friday (29/09/2017).
At the same time, the launch of BIG BLACK series is in Indonesia. This series is a limited collection of some 1 G-SHOCK models specially prepared to celebrate 35 years of age G-SHOCK, and featuring matte black as a variant
Black color is the symbolic color of G-SHOCK.
The final touch of matte on the basic black color is obtained through the technology of some special particle fusion to create a black color that seemed to absorb all the light around it. The contrasting gold color on the cover plate is carved with the 35th anniversary logo of G-SHOCK by Eric Haze, the world's leading graphic artist.
The sincerity in the initial process of G-SHOCK creation became an important message delivered by Casio's Executive Vice President, Hiroshi Nakamura.
"CASIO comes thanks to four Kashio brothers' confidence in creating the world's first electrical calculator. Ibe with revolutionary innovation G-SHOCK re-prove our unyielding spirit in facing new challenges. Should those people decide to withdraw from their creation process, then we do not
May be here today," he said.
G-SHOCK will continue to expand its scope by further instilling the values ​​of unlimited toughness in more young people of Indonesia. Jevin Julian and Muchlis Fachri (Muklay) are two of Indonesia's inspirational young generation who also hold such strong values. The results of their work are proof of their respective resilience in the face of various challenges as well as evolve.
"I grew up as a G-SHOCK lover, and proud of the toughness of my watch helped reflect the unbeatable power of its users. The pride continued as I began my career in music as a drummer and evolved into my current one," Jevin said.
"I never dreamed of being a famous musician, but I have a target not to stop digging my potential, be it in the field of beatbox, electronic dance music, or as a producer Who knows I will be able to explore what else. I believe that only I can say when I should quit, and I also believe there will always be a higher peak that can be achieved," he added.
Today's media talk session opens with beatbox collaboration Jevin Julian and the mural creation of the G-SHOCK logo by Muklay, one of Indonesia's young art talents with works recently included in Bienalle Animamix International 2017.
The 35th anniversary of G-SHOCK will also feature a Shock the World tour which will start in New York on November 9, 2017. The tour will come to Indonesia in 2018, and was preceded by We Shock Indonesia on December 9, 2017.