BAZNAS Serves 1,000 Rohingya Refugees in Bangladesh
By : Hariyanto And Aldo Bella Putra | Friday, October 20 2017 - 14:00 IWST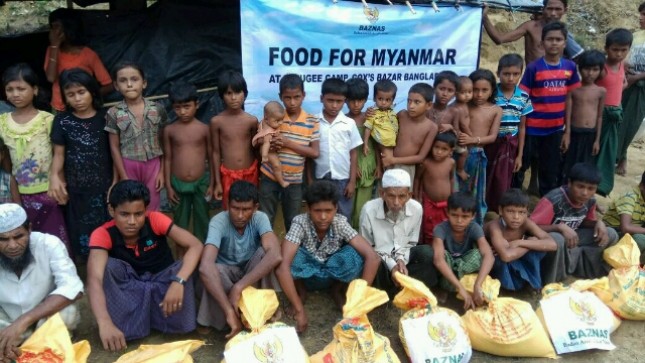 BAZNAS Layani 1.000 Pengungsi Rohingya di Bangladesh
INDUSTRY.co.id - Jakarta - Health Post the National Amil Zakat Agency (BAZNAS) serves 1,000 Rohingya refugees in Cox's Bazar District, Bangladesh. The post commanded by the Head of BAZNAS Disaster Response (BTB) Ahmad Fikri, has been in the area bordering Myanmar, since last week.
"The medical assistance program is implemented by BAZNAS for Rohingya refugees residing in Cox's Bazar. This health service activity is centered in the Kuthu Palong area. This is part of BAZNAS's commitment in supporting the Indonesian Humanitarian Alliance or IHA program," Ahmad Fikri said in a written statement received in Jakarta on Thursday (19/10/2017).
Fikri who was asked as the Chairman of the BAZNAS Humanitarian Team during the border of Bangladesh-Myanmar explained that BAZNAS is supported by local medical volunteers consisting of 8 doctors and 6 nurses. In the assignment, they are divided into two shifts, each working for a full day.
"Most of the refugees have experienced cases such as malnutrition (stunting), diarrhea, pneumonia, fever, burns, gunshot wounds, acute respiratory infections or respiratory infection and malnutrition," said Fikri who recently led BAZNAS team serves the eruption of Mount Agung eruption, Bali.
He explained, to date, the number of patients who have handled as many as 1,008 people who are dominated by toddlers, children and the elderly. "Poor health conditions, compounded by a state of inadequate and inadequate environmental conditions. In addition, also the situation or the weather that everyday rain constantly. And when there is no rain, the temperature is very hot because this area is a coastal or coastal area," he said.
According to Fikri, health posts are still very minimal. "Therefore, it needs an integrated health management concept with more appropriate medical facilities and suitable to the situation and condition of the refugees spread in many locations," he said.
He added that after coordinating with the Indonesian Humanitarian Alliance for Myanmar (AKIM), BAZNAS supports the concept of mobile clinic with complete and mobile health facilities (faskes).
"Or a model of garage clinic and cabin clinic that uses the space that comes from containers. This is more appropriate and appropriate, because it can be placed in certain locations and when no longer needed, can be moved to another place," he said.
Fikri said the BAZNAS Humanitarian Team has also supplied groceries to a number of refugee camps. "Natura assistance in the packaging of 'food for Myanmar' has been 80 percent channeled, namely in the form of packages each consisting of ten kilograms of rice, one kilogram of onion, salt, peanuts, vegetable oil and so on. The distribution location is focused on three dots, namely in Kamp Nayapara, Teknaf and Balukali," he said.
Meanwhile, Fikri added, BAZNAS Humanitarian Team also established several family shelter units as a temporary shelter for Rohingya refugees. The family shelter was built at Balukali Camp, Ukhiya, a border town in Cox's Bazar District, Bangladesh.