PT Semen Baturaja Cooperates with PT PP-PT Telkom to Support Infrastructure Industry
By : Ridwan And Aldi Firhand. A | Thursday, October 26 2017 - 22:44 IWST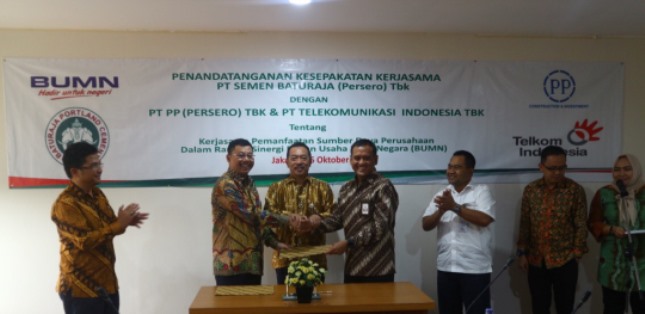 PT Semen Baturaja Cooperates with PT PP-PT Telkom to Support Infrastructure Industry (Foto Ist)
INDUSTRY.co.id - Jakarta- Supporting infrastructure development, PT Semen Baturaja (Persero) Tbk is synergizing with PT PP (Persero) Tbk and Telekomunikasi Indonesia Tbk.
The signing of the memorandum of understanding was done directly by the President Director of PT Semen Baturaja (SMBR), Rahmad Pribadi and the Director of Finance & HCM PT PP, Agus Purbianto, at the Office of the Ministry of State-Owned Enterprises (BUMN), Jakarta (25/10/2017).
On the occasion, Rahmad Pribadi, argued, it took PT PP to build housing employees SMBR near the plant site located in Baturaja, South Sumatra.
But the two synergies according to Rahmad will not stop only on housing construction projects. Rahmad emphasized that the SOEs he leads are also ready to supply cement for the needs of infrastructure development projects being undertaken by PT PP.
"Especially projects that are in the area of ​​SMBR distribution such as in Palembang, Bengkulu and Lampung," he said.
The mutually beneficial pattern of cooperation between PT SMBR and PT PP is, according to Rahmat, also supported by other cooperation between PT SMBR and PT Telkom.
The signing of a memorandum of understanding between PT SMBR and PT Telkom was also conducted directly by the President Director of SMBR, Rahmad Pribadi with Director of Enterprise & Business Service, Dian Rachmawan.
Rahmad said that PT SMBR will use Telecommunication, Information, Media, Edutainment and Services (TIMES) services which are managed, developed and provided by Telkom.
Cooperation between two SOEs under the Deputy Minister of Mining, Strategic Industries and Media Ministry of SOEs that implementation is done on a scheduled basis with span of time for five years (multi years).
Through the two synergies, Rahmad said all business units of Semen Baturaja will be connected with data communication and video conference infrastructure. Rahmad underlines if the maintenance services will be done by Telkom devices preventive and corrective.
"So that the application programs that have been made can be applied and consolidation of data on line can also be done," he concluded.