INTI Association: Being Grateful of Diversity, Confirming Unity, Affirming Indonesianness
By : Amazon Dalimunthe And Aldo Bella Putra | Thursday, November 09 2017 - 18:30 IWST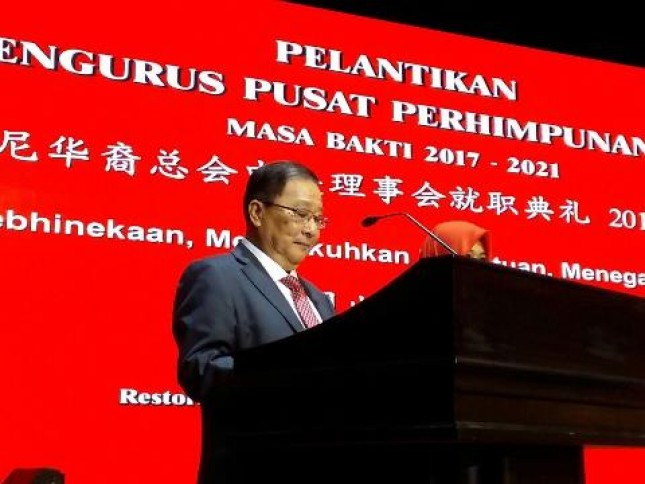 Teddy Sugianto, Ketum INTI 2017-2021
INDUSTRY.co.id - Jakarta - Counted for 18 years of existence and journey of INTI Association (Indonesia - Tionghoa). Appropriately, declared on Saturday, April 10, 1999 by 17 Indonesian citizens who happened to be ethnic Chinese.
"So after the May 1998 riots, the emergence of INTI Society. The goal itself is not focused on social activities, but more on efforts to equate the Chinese degree in society. Like, one of them fighting for the abolition of Keppres that is discriminative and it turns out from year to year can be resolved," said Teddy Sugianto Chairman of the Association of INTI period 2017 - 2021 service.
The vision and mission of INTI Association, is oriented to Indonesian nationals that respect human rights, egalitarian, pluralist, democratic and dignified.
"While the mission to solve the problem of Chinese in Indonesia, also helped create a solid Indonesia, prioritizing harmony, diversity, and mutual respect and mutual trust," said Teddy
In line with Teddy Sugianto, Vice Chairman of INTI Society dr. Indra Wahidin explains, Anyone can join as its members without being restricted to Indonesian ethnic Chinese citizens.
"The requirement as long as the citizens of Indonesia and meet and refer to the AD / ART is monggo to enter. As in Medan who join even there from Marbun clan, Hutasoit and so on. Because the most important thing we have in common to create a dignified Indonesia and return to justice it yes? " He explained.
According to historical records, the improvement of anti-discrimination struggle improved from era to era. Era of President RI BJ Habibie issued a decree whose contents are no longer native and non-indigenous terms.
While Gus Dur revoked Presidential Instruction No.14 of 1967 with Presidential Decree No.6 of 2000 which essentially gave freedom to the Indonesian-Chinese citizens, who originally limited his space of movement, culture, religion and belief.
"Imlek can be freely celebrated openly, and other freedoms such as the use of Mandarin, art performances etc.. Even Confucianism may be embraced openly as in the era of President Sukarno and the beginning of the New Order," said Budi S. Tanuwibowo, Vice Chairman of INTI.
Actually, struggle to eliminate discrimination in seeking equality with other citizens also bear sweet fruit. The Lunar New Year celebration in Gus Dur era, although limited to facultative, means that holidays can only be felt for those who hold Confucians or who celebrate it can be attended by the President. In the era of Megawati, Imlek then officially made as a national holiday.
This choice of Megawati, seen from the decision of Bung Karno, dated June 18, 1946 which set the Chinese facultative holiday for 4 days, namely; Imlek, Cengbeng, the day of birth of Khong Hu Cu and the day of Khong Hu Cu's death.
President Yudhoyono continued and resolved the policy of the previous president. The Chinese term is returned to Chinese. Confucian religion served in the Ministry of Religion, may be taught again in public schools. Even SBY inaugurated the temple Kong Miao in TMII area with tree planting on December 23, 2010.
For that, added Teddy Sugianto, "With the long journey of INTI Association, we can thank the government."
On November 9, 2017, INTI Association held the Inauguration Ceremony of the Board of INTI of the Service Period 2017 to 2021, as a continuation of the result of the IV IV INTI August 2017.
Ever since the elected, the board of INTI has made a visit to the Chairman of ICMI, Prof. Dr. Jimly Asshidiqqie, SH, High Priest of Masjid Istiqlal Prof. Dr. Nasaruddin Umar, MA, General Chairman of MUI, KH Ma'ruf Amien, Chairman of Nahdlatul Ulama Prof. Dr. Nasarudin Umar, Chairman of Muhammadiyah Dr. Haedar Nashir, and several other national figures.
The visit is intended to conduct dialogue and discussion, discuss the issue of nationality where the INTI Society seeks to be part of the effort to unite this plural nation. (AMZ)