Rp100 Trillions Losses Due to Jabodetabek Congestion
By : Herry Barus And Aldo Bella Putra | Sunday, December 03 2017 - 19:00 IWST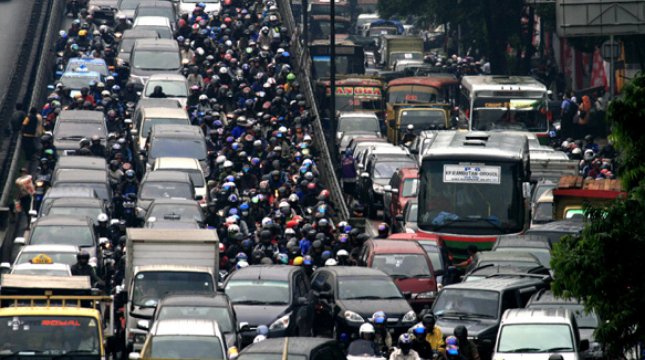 Ilustrasi kemacetan di Jabodetabek. (Foto: Ist)
INDUSTRY.co.id - Jakarta- Losses due to traffic congestion increase every year, this year in Jakarta reaches Rp 67.5 trillion while in Jabodetabek Rp100 trillion, based on data from the National Planning and Development Agency.
Head of Jabodetabek Transportation Management Agency, Bambang Prihartono, in a discussion in Jakarta on Sunday said that to reduce the unnecessary loss, BPTJ of the Ministry of Transportation, together with local government and other related parties have prepared various breakthroughs and must be implemented as soon as possible.
"The various breakthroughs that have been prepared, have been and continue to be communicated by BPTJ with the Governor and Vice Governor of DKI Jakarta and regional heads in Bodetabek," he said.
He added that BPTJ and DKI Jakarta Provincial Government will continue to coordinate the follow up of public transportation and congestion improvement program in Jakarta within the scope of Jabodetabek handling.
Bambang said the current Jabodetabek transportation problem with the condition of congestion level is very high, where the ratio of vehicle volume compared to road capacity is close to 1, or in other words has been stuck and need handling.
Secondly, motorcycles on the road are becoming more dominant, while the role of public transport is still low.
"Currently, the use of public transportation in Jakarta is only 19.8 percent and in Bodetabek only 20 percent," he said.
For that, according to him, necessary handling program that needs to be implemented immediately since from 2000 to 2010, statistical data on the number of registered vehicles has increased by 4.6 times.
Meanwhile, for the commuter from Bodetabek to Jakarta there are about 1.1 million, and this has been growing 1.5 times since 2002.
For daily traffic movement in Jabodetabek, he mentioned that in 2003, 37.3 million trips / day increased 58 percent or reached 47.5 million trips / day in 2015.
Of the 47.5 million people travel per day, about 23.42 million is a movement within the city of Jakarta, 4.06 million is the commuter movement and 20.02 million is another movement that passes DKI and internal Bodetabek.
Jabodetabek trip average dominated by motorcycles, the spread of the total movement of Jabodetabek dominated by motorcycles that is equal to 75 percent, private vehicles by 23 percent and two percent by public transport vehicles.
"This certainly has an impact on the economy and the environment," he said.
There are several breakthroughs that have been and will be done, namely BPTJ and the Provincial Government of DKI sure to push policies such as even odd implementation, motorcycle settings; ramp metering on tolls; Electronic Enforcement; arrangement of freight transport.
"To be able to push the policy, it is prepared to prepare a special lane of public transport in Jabodetabek area, 'Park and Ride' which is adequate, preparing various public transportation alternatives such as pickup, JR Connexion, and JA Connexion," he said. (Ant)