BMKG Records 409 West Sumatra Shake Earthquakes During 2017
By : Herry Barus And Aldo Bella Putra | Tuesday, January 09 2018 - 18:00 IWST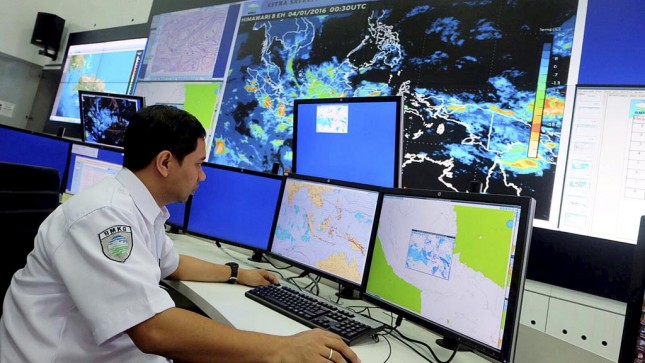 BMKG Badan Meteorologi, Klimatologi, dan Geofisika (Foto Dok Industry.co.id)
INDUSTRY.co.id - Padang - Meteorology, Climatology and Geophysics Agency (BMKG) Geophysical Station Padang Panjang, West Sumatra recorded 409 tectonic earthquakes rocked West Sumatra from January to December 2017 or increased compared to 2016 as many as 195 events.
"West Sumatra is an area prone to earthquake events caused by several factors," said Head BMKG Geothermal Station Padang Panjang, Rahmat Triyono contacted media crews from Padang, Tuesday (9/1/2017).
He said of 409 earthquakes that occurred during 2017, there are 23 earthquakes magnitude above 5.0 on the Richter scale and 10 of which are felt strongly by the community as on January 9, 2017 with a magnitude 5.3 earthquake magnitude in 64 kilometers Northwest Coastal South .
Then there was also one powerful earthquake that occurred on 31 August 2017 at 68 kilometers east of Saibi Estuary Mentawai archipelago with strength of 6.2 on the Richter scale.
"6.2 Richter scale earthquake was felt to the city of Payakumbuh and Muko-muko Bengkulu," he said.
The rest, said Grace Earthquake strength that occurs below 3.0 scale Richter or relatively small.
Then he explained the cause of the earthquake, namely the big faults of Sumatra or the fault of Semangko extending from Aceh to Lampung and through several districts in West Sumatra such as Solok District.
Furthermore, the Indo-Australian plate that crashed into the western part of the island of Sumatra in an oblique, subduction zone or so-called Megathrust Subduction Sumatra.
"The third cause of Mentawai Fault in the boundary between the two plates which is bounded by the trough is a shallow subduction zone," he said.
In 2017 BMKG does not issue tsunami early warning, he said because there is no earthquake in that period that has the potential for natural disasters such as that occurred in Aceh in 2004 ago.
He said earthquake activity is quite common in West Sumatra, so people are encouraged to stay alert to earthquake activity.
"Until now there is no technology that can predict the earthquake accurately," he added.
Earlier Earthquake Experts from the University of Andalas (Unand) Dr Badrul Mustafa said West Sumatra in general not included in the area that is aware of the earthquake because in some districts / cities there are buildings that cannot stand the disaster.
"I want the local government to encourage areas prone to earthquake and tsunami disasters to improve both physical and non-physical preparedness in the face of the disaster," he said.