Askrindo Protect PT PAL's Assets
By : Ahmad Fadli And Aldi Firhand. A | Friday, January 12 2018 - 20:25 IWST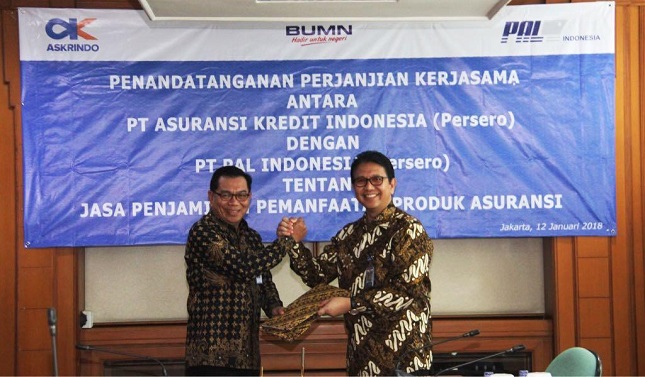 (Left-Right Dirk Askrindo Asmawi Syam and President Director of PT PAL, Budiman Saleh at Graha Askrindo Jakarta, Friday (12/1) (Photo: Fadli INDUSTRY.co.id)
INDUSTRY.co.id - Jakarta - Asuransi Kredit Indonesia (Persero) or Askrindo and PT PAL Indonesia signed a cooperation agreement on insurance services utilization of insurance products. The Rp15 billion cooperation agreement was signed by President Director of Askrindo, Asmawi Syam and President Director of PT PAL, Budiman Saleh at Graha Askrindo Jakarta, Friday (12/1).
In this partnership, Askrindo covered the risk guarantee for PT PAL in the form of Surety Bond, Customs Bond and some other Askrindo products for two years since the agreement was signed, "Asmawi said during a boers conference with the media.
Asmawi explained, Askrindo provides risk insurance from offering, execution, down payment, construction to maintenance of construction construction by PT PAL.
"In addition, we will cover their credit risk as well as import or export requirements and vooruitslag or import clearance permit first," Asmawi said.
Not only that, Askrindo also publishes Customs Bond for bonded area / EPTE starting from Sub Contractor, machine repair, and also lending machine besides, tax liability notice and import duty of PT PAL Indonesia is also covered by Askrindo.
"Hope Askrindo in the future also can cover insurance for employees of PT PAL Indonesia. In the future we will offer General Insurance Personal Accident to the company" he concluded.
Budiman Saleh added that PT PAL is currently believed by the state to produce warships to submarines, as well as to make ships for commercial purposes.
In addition to targeting the domestic market with orders 3 warships and 2 submarines, PT PAL has also targeted overseas markets.
"It can be said that our prime product for overseas market is to fulfill order from Philippines, it is PT PAL's new effort to type the doors of each other country to expand market and the process is running," said Budiman.
The production process of warships and marketing for domestic and international markets is successful if PT PAL is driven by strong financial and market access.
"Therefore we want to expand the cooperation items to enter into other insurance with Askrindo We hope this cooperation will increase the volume of business between us from PT PAL and Askrindo," he said