Kulon Progo Airport Yogyakarta 8.8 RS Earthquake Resistant
By : Herry Barus And Aldi Firhand. A | Saturday, January 27 2018 - 23:15 IWST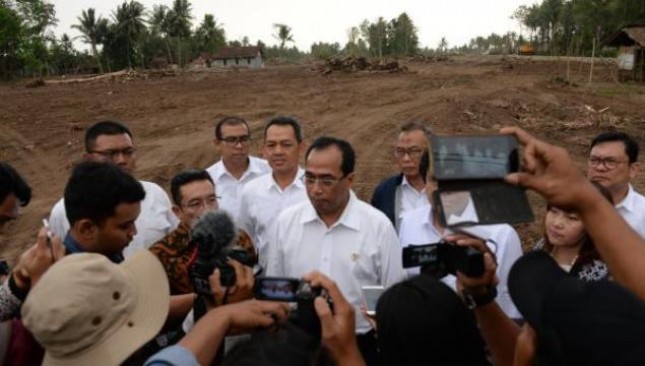 Menhub Budi Karya Sumadi Optimistic Development Kulon Progo Airport Working Well (Photo Humas)
INDUSTRY.co.id - Jakarta - Minister of Transportation Budi Karya Sumadi said the development of Kulon Progo Airport, which is located on the coast has been designed to withstand earthquakes to the strength of 8.8 on the Richter scale (RS).
"Do not be afraid of Kulon Progo due to the tsunami, we have calculated the 8.8 on the Richter scale that has never happened in Java We have prepared the building and mitigation done," said Minister Budi Karya at a discussion at the Office of Meteorology, Climatology and Geophysics Jakarta , yesterday.
Budi said Angkasa Pura (AP) I, in collaboration with ITB and BMKG has taken into account in detail related to Kulon Progo Airport development on earthquake and tsunami prone land.
According to him, before major infrastructure development is done, the risks and potential of disaster must be identified in depth first so that the functions of airports, ports and reservoirs will be maximal.
Previously, the Ministry of Transportation through the Directorate General of Civil Aviation has involved a number of resource persons from LIPI, BPPT, BMKG and AP I regarding the details of the drafting of engineering design on tsunami and earthquake disaster mitigation at Kulon Progo Airport location.
"From the earthquake experts it recommends things that are so anticipatory that the tsunami is 'engineering' manageable, not something that can not be managed with us taking into account beforehand in the plan," said Budi.
The potential of earthquake and tsunami disaster in southern subduction of Java is quite high and threatens the south of Java, including Kulon Progo Airport location. Only, can not be determined periodization of the emergence of the disaster.
However, disaster risk has been calculated by the government long before the ground breaking of Kulon Progo Airport was done in January 2017.
BPPT has prepared six scenarios or tsunami mitigation models in the airport area by optimizing sandbanks and green belts. Of the six models, the fifth scenario is considered the most effective and inexpensive to reduce the impact of the disaster.
The scenario consists of three layers of sand dunes, green belt (mangrove or pine shrimp), and a ditch 200 meters between the beach and Kulon Progo Airport.
The tsunami reduction structure in the form of a sand dune and a green belt will require about 1.7 million cubic feet of dig a heap and 50 hectares of green belt. Based on the simulation result, the scenario is only 1.1 percent of the tsunami impact to Kulon Progo Airport.