Bendul Katulampa Bogor Alert I due to Heavy Rain
By : Herry Barus And Aldo Bella Putra | Monday, February 05 2018 - 14:00 IWST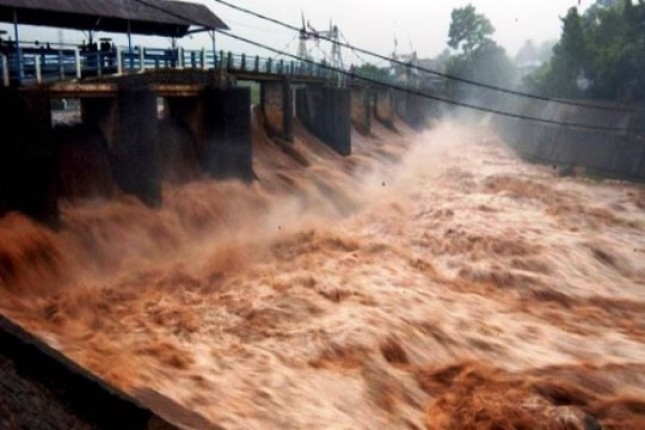 Bendung Katulampa Bogor (Foto Dok Industry.co.id)
INDUSTRY.co.id - Jakarta - Head of Data, Information and Public Relations Center of the National Disaster Management Agency (BNPB) Sutopo Purwo Nugroho said heavy rains that took place since Sunday (4/2) in the upper reaches of Ciliwung River caused the status of Bendul Katulampa Siaga I.
"The water level in the Katulampa Dam has reached 220 centimeters on Monday (5/2) at 08.30 WIB, so the status of Alert I or the highest level," said Sutopo through a written message in Jakarta, Monday (5/1/2018)
Sutopo said the alert status I in Bendul Katulampa is set when the water level of Ciliwung River is above 200 centimeters.
At 09.00 WIB, the water level rose to 230 centimeters, then at 09.05 WIB to 240 centimeters.
"The rain is still going on in the Bogor area so that it can increase the water flow of the Ciliwung River with the alert status of 1 Bendul Katulampa, the residents around the Ciliwung River are advised to be alert," he said.
People living on the banks of the Ciliwung River in Bogor; such as in Katulampa, Sukasari, Barangsiang, Babakan Pasar, Sempur, Pabaton, Kedung Badak and Kedung Halang; so as not to do activities around the river.
Similarly, people around the banks of the Ciliwung River in Depok area.
"It is estimated that about nine hours, the water will reach the Manggarai Water Gate, Jakarta," he said.
Flood is expected to inundate riverbanks around Jakarta such as Srengseng Sawah, Rawajati, Kalibata, Pengadegan, East Pejaten, Kebon Baru, Bukit Duri, Balekambang, Cililitan, Bidara Cina and Kampung Melayu.
In addition to not having activities around the river, people in areas expected to be affected by floods are also urged to move household goods to a safe place, especially for settlements on the banks of the Ciliwung River.
"It is estimated that the flood will not be large and widespread because the rain is uneven, flooding will only occur in settlements on the banks of the river, other areas are still safe," he said.
According to Sutopo, other rivers in the Jakarta area are still in normal or safe condition such as Kali Krukut, Kali Cipinang, Kali Sunter, Kali Karet and Kali Pesanggrahan.
BPBD Kabupaten Bogor and BPBD of DKI Jakarta have distributed flood early warning information to the community, urban and subdistrict apparatuses. Equipment, logistics and personnel are prepared to anticipate flooding.
February is the peak of the rainy season for the greater Jakarta area. The potential for flooding will continue to increase with increasing rainfall.
People are encouraged to continue to increase awareness and preparedness in the face of floods and puddles.