Government Confident Industry Growth 5.67 percent
By : Arya Mandala And Aldi Firhand. A | Saturday, February 17 2018 - 22:47 IWST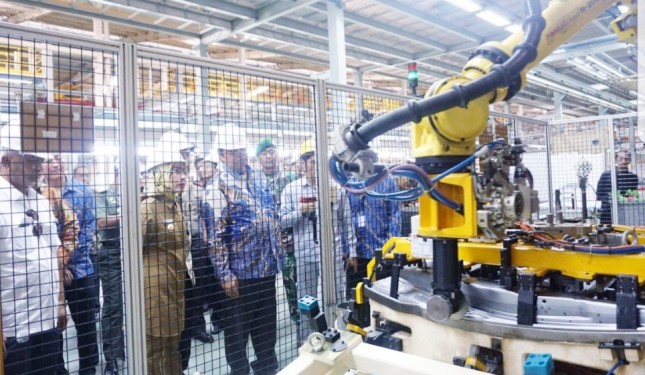 Menperin visit automotive factory in Serang Banten
INDUSTRY.co.id - Jakarta, By creating a conducive business climate with industry players, the Ministry of Industry is optimistic to boost the growth of non-oil and gas industry in 2018 by 5.67%.
"We are optimistic that the Indonesian industry will be able to grow higher," said Minister of Industry (Menperin) Airlangga Hartarto on various occasions.
For that, According to him, it is necessary to work together with all stakeholders in order to carry out strategic steps in achieving the growth target of the industry.
To achieve the target, the government expects the manufacturing industry to be one of the main growth advocates.
Not without reason, the manufacturing sector becomes a mainstay can drive economic growth.
Referring to Central Bureau of Statistics data as of the third quarter of 2017, the manufacturing sector still recorded a fairly high growth.
For example, basic metal industry growth of 10.6%, food and beverage 9.49%, machinery and equipment 6.35%.
For that, in the future, the government will focus to boost the manufacturing industry, especially the automotive, electronics and food beverage sectors as it will become a widely developed product in Asean.
In addition to these three subsectors, growth is also expected in the basic metals industry subsector, transportation equipment, machinery & equipment, and pharmaceuticals and chemicals.
Agreeing the Minister of Industry's target, Secretary General of the Ministry of Industry Haris Munandar sees a positive trend of domestic industry growth in the coming year.
This year, the company targets the amount of investment to reach Rp 400 trillion-Rp 500 trillion. That number almost doubled compared to this year's target.
"The biggest contribution of incoming investment comes from the manufacturing sector," Haris said.
Not only the government, the Institute for Development of Economics and Finance (INDEF) also believes a number of manufacturing subsectors will grow positively this year, as stated by their researcher Bhima Yudhistira Adinegara.
According to him, the food and beverage industry is likely to grow above 10 percent due to political spending until 2019.
The growth of base metal industry is projected to continue the positive trend due to the recovery of property sector and government infrastructure spending reaching Rp 410 trillion.
While the equipment industry will grow stable at 6% -7%.
Textile and clothing industries are also believed to be growing as demand for export destination countries, namely America and Europe.
But for the pharmaceutical chemical industry, the tobacco processing industry and INDEF wood industry predict only limited growth.