The Rise of Construction Accidents, The Association of Steel Communities Urges Government to Maximize Steel Products
By : Ridwan And Aldi Firhand. A | Friday, February 23 2018 - 21:46 IWST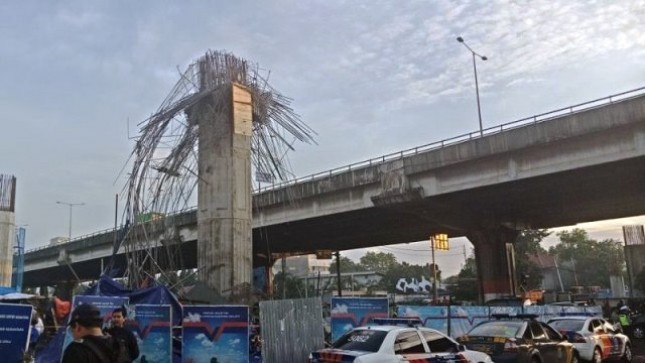 Becakkayu Accident
INDUSTRY.co.id - Jakarta, Post-accident at the Bekasi-Cawang-Kp Melayu Toll Road (Becakkayu) infrastructure project that collapsed so that 7 (seven) workers suffered serious injuries. The government through the Ministry of Public Works and People's Housing took a stand by pausing the overpass construction project to avoid future state losses.
Minister of Public Works and Public Housing (BPR) Basuki Hadimuljono confirmed that his party will conduct an evaluation, and from the Ministry of State-Owned Enterprises (BUMN) will instruct BUMN Karya to evaluate with independent consultant on working methods starting from, Standard Operating Procedures (SOP) Human Resources (SDM), to the equipment.
In the temporary suspension, the contractor will certainly suffer losses as the financing continues. Plus for the replacement of damaged materials that can no longer be used because of using concrete.
Related to this, Didi Aulia as Chairman of Advocacy and Regulation of Indonesian Steel Association (AMBI) assessed the use of steel material is still very minimal. Whereas in case of work accident, steel material can still be reapplied.
"The use of steel products should be maximized, seeing the current rampant work accidents caused by the failure of the installation of steelgirder. Using steel girder boxes and other steel materials will be more efficient given the specifications, speed, safety, installation is superior to steelgirder," said Didi via press release in Jakarta, Friday (23/2/2018).
He added, related to the price of steel box girder box compared with Steelgrider was relatively the same. "When the concrete fails construction is definitely destroyed and can not be reused but if the steel can still be repaired," said Didi.
Meanwhile, Ken Pangestu as President Director of Gunung Steel Construction (GSC) also agrees if the use of steel materials should be further improved.
"For the price of project material that uses precast concrete and steelgirder box only, there is no significant price difference. If you can use steel why must use concrete, while our material production is overloaded," said Ken.
Another matter, Singgih Wasesa from steelindonesia institute revealed that currently the portion of steel material compared to concrete material in the National Strategic Project (PSN) is very minimal.
"Perhaps this is caused by the construction executor who is mostly SOE Karya, where the BUMN Karya has a subsidiary producing steelgirder, should of the planners should consider for building a long stretch and high risk using materials other than concrete," he added.
Didi also questioned the formation of an Infrastructure Project Evaluation Team headed by Budi Harto who also serves as President Director of Adhi Karya.
According to him this will not solve the problem seriously considering the project implementers are also SOEs.
"Why not the KKK (Construction Safety Committee) which become the supervisory team, because it has been formed according to the Ministerial Decree of PUPR No.66 / KPTS / M / 2018. Do not admit SOEs Only," Didi said.