Increase Food Security and Farmers' Welfare, Minister of Agriculture Amran Prepares Five Strategic Programs
By : Ridwan And Aldi Firhand. A | Thursday, March 08 2018 - 20:51 IWST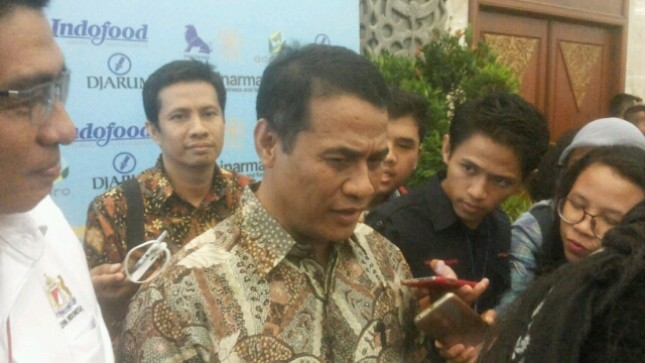 Minister of Agriculture (Mentan) Andi Amran Sulaiman (Photo: Ridwan / Industry.co.id)
INDUSTRY.co.id - Jakarta, Minister of Agriculture (Mentan) Andi Amran Sulaiman said it is preparing programs to improve food security and farmers' welfare.
"There are several short-term programs that we are currently living," said Amran after attending the opening of the 4th Jakarta Food Security Summit (JFSS) at the Jakarta Convention Center on Thursday (8/3/2018).
He added that there are five short-term programs that we are currently preparing to meet food security in Indonesia, among others, first, to optimize the land into rainfed land.
"This is a short-term program, how do we optimize the existing land into rainfed fields that are usually planted once now into two or three times." At present, 50 percent of Indonesia's agricultural land becomes rainfed, "he explained.
Secondly, he continued, as the direction of Mr. President we must increase productivity. "In the past, the national average production of 5 million tons for rice, currently with new variety, invary and IPB3S can increase domestic production to double," he explained.
Third, the purchase of superior seeds. "This is our new policy of buying all the seeds to reach 3 million hectares and distributed to farmers free of charge, which is a short-term increase in production," Amran said.
Next, fourth, the provision of agricultural machinery. "We will give agricultural machine tools about 2000 percent, and we give it for free to farmers, to reduce production costs by 30-40 percent," he added.
Fifth, added Amran, encourage the use of system mechanisms for harvesting. According to him, by using a system of mechanisms that have been up to 10.2 percent can be taken entirely.
"Currently we have 10.2 percent losses, say 70 million tons means 70 million tonnes multiplied by 4 million we can save the future reaches Rp28-30 trillion lost farmers who fall in vain on the ground," said Amran.
Furthermore, Amran asserted, the point is that if we want to meet food needs in Indonesia the key word is toward modern agriculture.
"Modern agriculture is the key to meeting domestic food needs," he said.