Minister Basuki Says There Has Been Recommendation of Sanction For Becakayu Toll Road Project Contractor
By : Hariyanto And Aldi Firhand. A | Tuesday, March 13 2018 - 22:11 IWST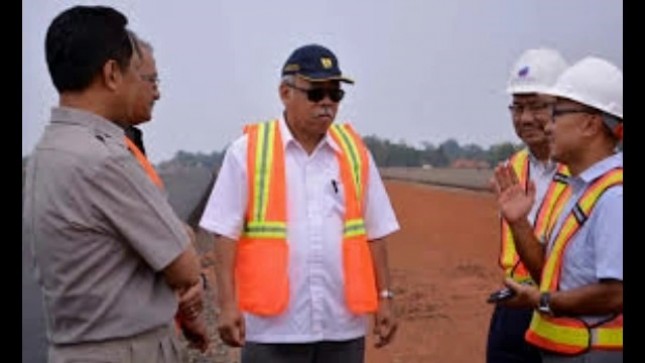 Minister of PUPR Basuki Hadimuljono (Foto Ist)
INDUSTRY.co.id - Bogor - Minister of Public Works and People's Housing Basuki Hadimuljono said there was a sanction recommendation for Bekasi-Cawang-Kampung Melayu (Becakayu) toll road contractor project, referring to the Construction Committee (KKK) evaluation report related to construction accidents in the project.
"So there is a recommendation, this afternoon I recommend to the Minister of SOEs," said Basuki after accompanying President Joko Widodo received a delegation of Asian Infrastructure Investment Bank (AIIB) at Bogor Palace on Monday (12/3/2018).
Basuki revealed that the mold of a pole head in the Becakayu toll road project has collapsed, because the number of bolts mounted on the bracket of the mold buffer is considerably less than the standard. "If elsewhere there are eight, there are 12. But that is installed there, if according to the committee only four," said Basuki.
According to him, the masthead mold in the Becakayu Toll project could be collapsed due to undisciplined behavior of construction workers in implementing the project. "It's because of discipline and supervision, so the supervisory consultant who was not there at the time," said Basuki.
Basuki said that the Ministry of Public Works and People's Housing gave a recommendation on sanctions, because it found the negligence and indiscriminate implementation of standard operating procedures and the weakness of supervision in the construction of the toll road development project.
The collapse of a masthead mold in the Becakayu toll road project area that left seven people injured on February 20 has prompted the government to temporarily halt the construction of flyover projects throughout Indonesia.
In this case, the police have set up two suspects, namely Head of Field Manager of PT Waskita Karya AA and Head of Supervisor PT Virama Karya Inisial AS. (tar)