Minister Airlangga: The Drivers of Success in the Implementation of Industry 4.0 Is Innovation
By : Hariyanto And Aldi Firhand. A | Tuesday, April 17 2018 - 22:56 IWST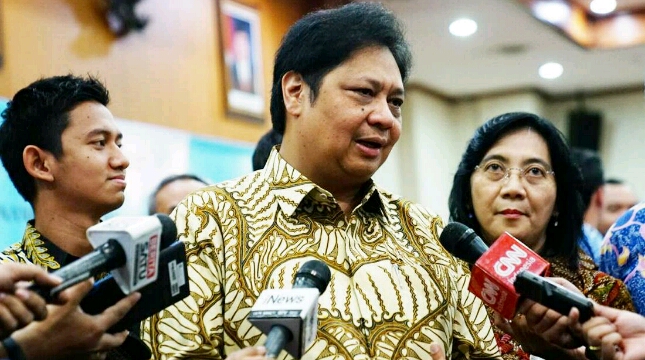 Minister of Industry Airlangga Hartarto
INDUSTRY.co.id - Jakarta - The Minister of Industry Airlangga Hartarto said that one of the success drivers in implementing Industry 4.0 is the innovation that is produced. Currently, Indonesia's innovation rate is still at 0.3 percent level, whereas in order to excel in competing it takes 2 percent innovation level.
This will be enhanced by strengthening the role of universities. From there it is expected to create innovations that will encourage the effectiveness of the industry, "said Minister of Industry Airlangga Hartarto as a guest speaker at the West Merdeka Forum 9 discussion in Jakarta, Monday (16/4/2018).
According to Airlangga, innovation factor becomes important in order to maximize added value at every stage of industrial chain. Another important step is the productivity of workers. This will be addressed by improving the vocational education program.
"Industry 4.0 will make the manufacturing contribution will reach 25 percent by 2030 and contribute an increase of 1 to 2 percent growth," he said.
The same thing was conveyed by Head of Industrial Research and Development Agency (BPPI) of Ministry Of Industry Ngakan Timur Antara, that the Government encourages vocational program activities by the industry by providing tax incentives up to 300 percent.
Ngakan added, innovation is also important to be done through research and development activities (R & D). "Where the industries that do R & D will get incentives in the form of tax reductions of up to 200% to 300%," he said.
Furthermore, Ngakan said, the government is proposing that research spending can be increased to 2 percent of GDP. "If it can be done until 2030, then research activity is seen to have been able to support the industrial revolution 4.0," he said.
In addition, in an effort to enter Industry 4.0, the government actively attracts new investments and encourages expanding industries. So far, there is already an investment review needed to deal with Industry 4.0, by outlining which industry sectors are favored.
"Investment is on the agenda of all parties to pursue competitiveness and increase exports," he explained.
Based on the Making Indonesia 4.0 roadmap, there are five industry sectors that will be the drivers and pilots in the application of Industry 4.0. The five sectors are food and beverage, chemical, textile, electronic and automotive industries.
One, the multinational technology company Apple Inc will add its research center in Indonesia. Once in BSD Tangerang, Banten, Apple will build three innovation centers in Indonesia. This innovation center in Indonesia is the first location in Asia and the third after Brazil and Italy.
The entry of Apple into Indonesia is one of the government's steps to make Indonesia as a player in the Industrial Revolution 4.0. In fact, with the inclusion of digital technology companies, will be able to open jobs related to Industrial Revolution 4.0, especially in the digital technology sector. In addition, through Apple's innovation center, the government will push Indonesia into the next digital economy hub.
Ngakan stated, not only Apple that will open innovation center in Indonesia, but there are some companies in the same field will do similar things like Apple. "Yes there will also be Samsung, Qualcomm, and others," he said.