Menperin Airlangga Spur the Acceleration of Development of Batulicin Steel Cluster
By : Ridwan And Aldi Firhand. A | Thursday, April 19 2018 - 21:09 IWST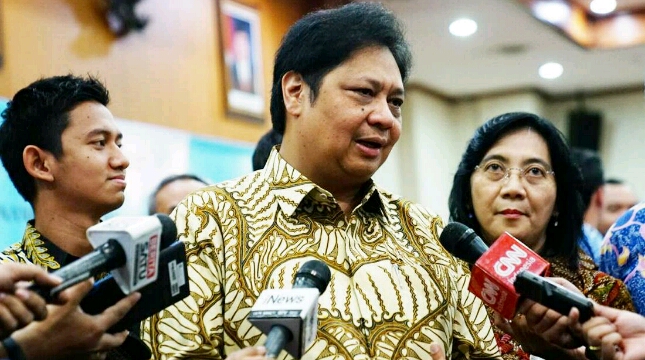 Minister of Industry Airlangga Hartarto
INDUSTRY.co.id - Jakarta, Minister of Industry (Menperin) Airlangga Hartarto continues to encourage the acceleration of steel industry cluster development, one of them in Batulicin, South Kalimantan.
These efforts are in order to meet the needs of domestic and export markets as well as realize an independent state of imported steel.
Currently in preparation stage. Steel cluster Batulicin will add steel production centers in addition to clusters of Cilegon and Morowali, Airlangga said in Jakarta (18/4/2018).
He added that, targeted at an early stage, the steel industry cluster in Batulicin is able to produce as many as 3 million tons of steel per year from the total production capacity expected to reach 6 million tons of steel per year.
Construction of steel clusters Batulicin is planned to be conducted by investors from China, Shenwu Technology Group Corp. Co., Ltd. By cooperating with local partner, PT Gunung Garuda. This steel cluster will stand on an area of ​​955 hectares.
The steel plant is projected to absorb 10,000 workers. There is now a steel industry that operates, namely PT Meratus Jaya Iron and Steel and equipped with ferry port facilities.
Then, in preparation of ready-to-work human resources in Batulicin industrial area, the Ministry of Industry has initiated Polytechnic development this year, so that local children can play a more active role in building the steel industry in the region.
According Menperin, it is ready to spur national economic growth by boosting the manufacturing sector. One of the mainstays is the steel industry. The industry is categorized as the parent sector because its products are the main raw materials needed for manufacturing activities in other sectors.
This steel is needed as an important component in the broad infrastructure sector which includes building and property, roads and bridges, telecommunications, and electricity, he said.
This is in line with the Ministry of Industry's efforts to optimize domestic steel industry production directed at the development of high value-added specialty products,
Therefore, in addition to accelerating the development of steel industry clusters in Batulicin, the Ministry of Industry also encourages the acceleration of steel industry cluster development in Cilegon, Banten with a production target of 10 million tons of steel by 2025.
"While the cluster in Morowali, Central Sulawesi will produce stainless steel of 3.5 million tons in 2020," he concluded.