Chairman of Kadin: Entrepreneurs Need Exchange Rate Stability
By : Ridwan And Aldi Firhand. A | Friday, April 27 2018 - 22:36 IWST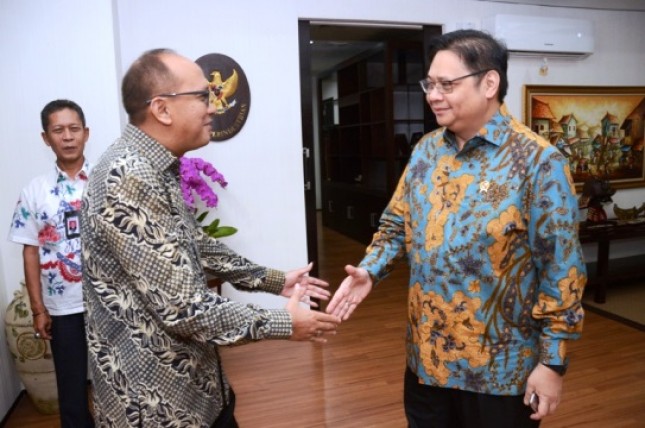 Chairman Kadin Indonesia Rosan P. Roeslani and Menperin Airlangga Hartarto (Foto Ist)
INDUSTRY.co.id - Jakarta, Chairman of Kadin Indonesia Rosan P. Roeslani hopes the regulator can establish the exchange rate of rupiah currency. With exchange rate stability, entrepreneurs will be more confident in making business projections.
"If the exchange rate keeps changing, entrepreneurs will have difficulties to make business planning," Rosan said in Jakarta (26/4/2018).
Because of that, the weakening of the rupiah can still be accepted by businessmen. Problems will arise when the exchange rate fluctuations are unstable and last for a long period of time.
He explained, in the condition of weakening or strengthening of the rupiah there are always parties who benefit business. For export-oriented industries and export-oriented mills, including those who make a profit. Meanwhile, industries that rely on imported raw materials are classified as losses.
"If in coal, they expect (the weakening of the rupiah against the US dollar) could be more than Rp14 thousand because they sell with dollars, while the cost of production with the rupiah, but many other industries that use imported materials," said Rosan.
According to Rosan, it does not expect the regulator to intervene until the rupiah exchange rate can return to the initial position in the range of Rp13,500 per US dollar. A small but stable correction of the exchange rate for a considerable period of time is more of a hope of today's business world.
"But if we expect Rp 13,500 (rupiah exchange rate to USD), it is quite heavy, which is stable at Rp 13,700 per USD or Rp 13,750 per USD," said Ketum Kadin.
As is known, the rupiah weakened against the US dollar. At the beginning of the week weakening has approached the number Rp14 thousand. Bank Indonesia then intervened into the forex market until there was a significant correction in the Indonesian rupiah exchange rate.