Development Progress Reaches 37 Percent, Minister of Transportation Targets LRT Trial in Mid 2019
By : Hariyanto And Aldi Firhand. A | Sunday, April 29 2018 - 22:54 IWST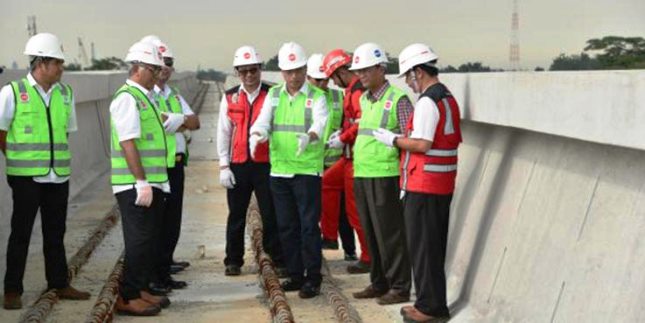 Minister of Transportation Budi Karya Sumadi reviewed the LRT project
INDUSTRY.co.id - Jakarta - The progress of the construction of light rail transit project or LRT Jabodebek phase I has reached 37%. Minister of Transportation (Menhub) Budi Karya Sumadi hopes LRT Phase I can be tested in mid 2019.
"Here the project is running well, now it is approximately 37% we expect mid-2019 has done a running test (trial). In 1-2 months will be the road, "said Minister of Transportation after direct review of Plant Precast LRT Pancoran location, Sunday (04/29/2010) afternoon.
With 37% achievement of this Minister of Transportation mentions, workmanship of LRT phase I done by PT Adhi Karya has been on target even slightly exceeding target 2%.
Furthermore, Minister of Transportation targets in 2024 traffic congestion in Jakarta can be overcome. Therefore, the Minister of Transportation continues to encourage the completion of the construction of transportation facilities and infrastructure such as LRT (Light Rail Transit) MRT (Mass Rapid Transit), BRT (Bus Rapid Transit).
With the acceleration of completion of transportation infrastructure development in big city like Jakarta Menhub mention speed of vehicle can increase.
"If the functions of MRT, LRT, BRT, and commuter trains run then accessibility than people from one place to another it becomes a good accessibility, at least the car can be with speed 40 km / hour," said Minister of Transportation.
Regarding the price of LRT tickets, the Minister of Transportation estimates that the price charged to the public is around Rp 12 thousand. For this the government will later provide subsidies on tickets.
"At that time Approximately Rp 12 thousand, hopefully it can be implemented. It (already) subsidies, the price approximately Rp 25 thousand, so there is a 50% subsidy, "he explained.
Meanwhile, Human Resources Director of PT Adhi Karya Agus Karianto explained that the achievement of 37% progress is the total work in some of the first phase of LRT service.
"Our current progress is 37%. For cross service I Cibubur - Cawang 60%. Cross II service is 22% and service two is from Cawang - Dukuh Atas. Cross service 3 from Cawang - East Bekasi was 40%. The sum is 37%, "said Agus.
Agus further said his side is still constrained development at some point as in Jalan MT Haryono and Cawang.
"In MT Haryono because there are still pedestrian that we can not do yet. The problem of narrowing it in Cawang area because Cawang there is a large station there are two cross service meeting in front of the BNN there is a long narrowing. We target at the end of July is normal, "he concluded.