RI-South Korea Establish Cooperation to Establish Marine Technology Research Center
By : Ridwan And Aldi Firhand. A | Thursday, May 10 2018 - 23:21 IWST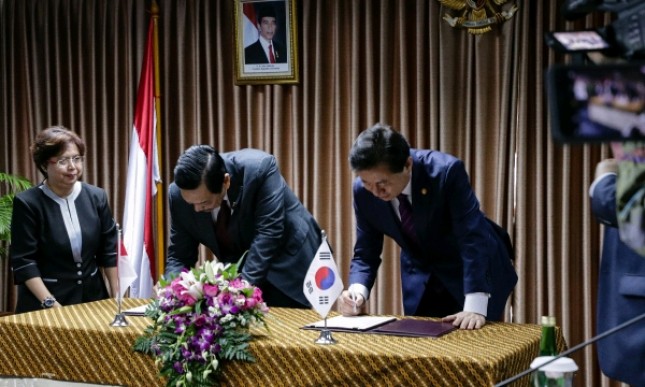 Luhut Binsar Pandjaitan with South Korean Minister of Maritime Affairs and Fisheries Kim Young Choon when signing an implementation arrangement agreement to establish a Marine Technology Research and Cooperation Center (PPKT)
INDUSTRY.co.id - Jakarta, Coordinating Minister for Land and Minerals Luhut B. Pandjaitan and South Korean Minister of Maritime Affairs and Fisheries Kim Young Choon signed an implementation agreement to establish a Marine Technology Research and Cooperation Center (PPKT) at the Ministry of Maritime Affairs, Jakarta (9-5-2018).
The signing is a follow up of the Memorandum of Understanding on Maritime Cooperation signed on 16 May 2016 between the Ministry of Marine Affairs and the Ministry of Marine Affairs and Fisheries of South Korea.
In addition, cooperation at the university level between the Institut Teknologi Bandung (ITB) and the Korea Institute of Marine Science and Technology (KIOST) has also been done with the signing of the Memorandum of Understanding on April 14, 2016.
"We see that maritime cooperation with South Korea is very important, because there is South China Sea and Natuna Sea so we can work together in this region, and indeed we hope because the history of South Korea is a good friend of Indonesia," said Coordinating Minister Luhut.
With this Ginseng country, the Coordinating Minister also hopes that there will be more investment in Indonesia. "In Indonesia many places for us can work together investment in technology and education that Korea is more advanced than us," he added.
To show the seriousness of the government's offer, Coordinating Minister Luhut told Minister Kim that Rector of ITB, Director General of Sea Transportation Ministry of Transportation, representatives of the Ministry of Foreign Affairs, Secretary of Ministry of Marine Affairs, Deputy of Coordination of Human Resources, Science and Maritime Culture Ministry of Maritime Coordination and Deputy of Coordination Sources Natural Resources and Ministry of Maritime Affairs Coordinating Services also attended the meeting.
"I hope there will soon be more concrete cooperation in technology as mentioned earlier," he said.
Furthermore, Coordinating Minister Luhut also mentioned the desire of the Indonesian government to have a research cooperation in the field of environment.
"We are very serious about environmental issues, such sustainability both on land and at sea, and we also want to achieve Sustainability Development Goals (SDG's), so we also want Korea to help to jointly address the issues of marine debris, "He explained.
On the occasion, the former Coordinating Minister for Political and Security Affairs also opened an opportunity to conduct joint research in the field of palm oil as a mixture of biodiesel materials.
In the same place, Minister Kim welcomes the offer of the Indonesian government. He also agreed with the desire to strengthen cooperation between the two countries.
"Our visit to Jakarta today is to review and check what we can do and where the implementation process of our cooperation agreement so far," he explained.
He hopes the two countries can begin to explore cooperation in the construction of tidal power generation in 2019.
"Tidal ocean is one of the new energy that can also be developed in Indonesia and this can help realize the wishes of the Indonesian government," said Minister Kim.
Meanwhile, on PPKTK whose agreement on implementation arrangements has been signed today aimed at enhancing cooperation and strengthening relations between Parties in the field of marine science and technology.
The Parties shall carry out this cooperation on the principle of equality, reciprocity and mutual benefit. The joint research projects to be undertaken by PPKTK include, but are not limited to the following areas: General and operational oceanography; Marine Science and Technology; Climate Change and Marine Environment, including Ecosystems; Integrated Coastal Management and Marine Law; Sea Energy (including tidal, wave, and current); Marine Mineral Resources; Freshwater; Coastal and Marine Disaster; and other areas that may be decided together in writing.
PPKTK is planned to be built in Cirebon, West Java. In the future operations, all activities of PPKTK, including administrative matters and facilitation related to operational activities will be carried out in accordance with applicable laws and regulations of the Republic of Indonesia.