Trump Must Stop Cowboy Action, Including His Provoking Comments
By : Herry Barus And Aldo Bella Putra | Wednesday, May 23 2018 - 18:30 IWST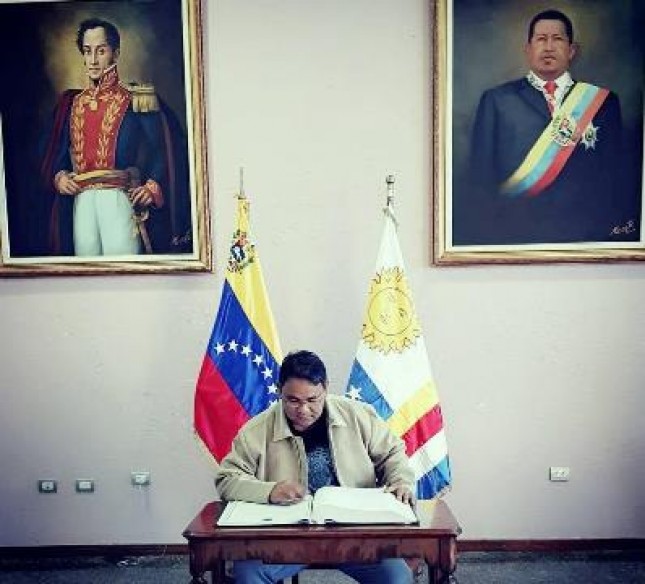 Teguh Santosa Sekjen Perhimpunan Persahabatan Indonesia-Korea Utara (Foto Dok Industry.co.id)
INDUSTRY.co.id - Caracas - The positive atmosphere towards peace on the Korean Peninsula is disrupted. As expected, the disruption came mainly from US President Donald Trump.
This was conveyed by Secretary General of the Association of Indonesia-North Friendship, Teguh Santosa, who received the editorial. Teguh is also the Secretary of the Asia Peace Reunification Committee of the Asia Oceania Region.
"Trump continues to use the rhetoric that corners North Korea, the various dictions submitted by its government officials hurting the ears and feelings of North Korea," Teguh wrote.
"Trump must stop the cowboy action, including his provocative and degrading comments," he said.
Teguh sends his statement from Venezuela on the sidelines of busy monitoring the election process in the country. Teguh is part of an international election monitoring team invited by the National Electoral Council (CNE) of Venezuela.
Lecturer of International Relations FISIP State Islamic University (UIN) Jakarta added that the exercise of war between South Korea and the United States in the border area a bit more also impact on the continuation of peace talks. Includes a talk plan between Kim Jong Un and Donald Trump.
The war games called Max Thunder 2018 involve advanced armaments and combat equipment of both countries, including the deployment of the B-52 Stratofortress nuclear bomber and the F-22 Raptor anti-radar fighter.
"North Korea has shown their commitment to defuse tensions, they agree to denuclearize and have scheduled the closure of nuclear facilities, but of course they also do not want to be sitting duck." The tension is the responsibility of both parties, "Teguh said.
Teguh continues, North Korea does not want to be considered under US pressure. North Korea's intentions are consistent, not wanting anybody else to interfere with peace talks.
"For North Korea, the South Korean and US military exercises at the border are a real threat to North Korea's sovereignty and safety," Teguh said.