Increase Exports, RI Establish Industrial Cooperation With European Union
By : Ridwan And Aldi Firhand. A | Sunday, May 27 2018 - 21:37 IWST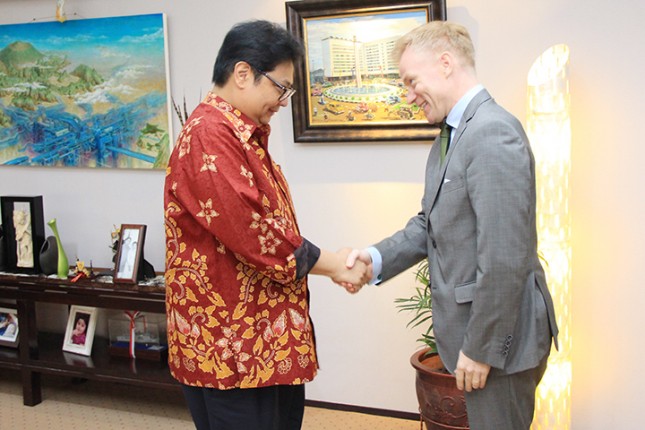 Minister of Industry of Airlangga Hartarto after receiving the visit of European Union Ambassador to Indonesia Vincent Guerend
INDUSTRY.co.id - Jakarta, Indonesia continues to expand the export market for industrial products to the EU region.
Some of the national manufacturing products that are being upgraded to exports to countries in the Blue Continent are among others food and beverage, textile, clothing, and footwear, as well as palm oil and its derivatives.
"The economy of Indonesia and the EU has been synergic and commodity competition between the two parties is different so that it can complement each other," said Minister of Industry Airlangga Hartarto after receiving EU Ambassador to Indonesia Vincent Guerend visit at the Ministry of Industry, Jakarta (25/5) / 2018).
The Ministry of Trade noted that the total value of Indonesia-EU trade in 2017 reached USD25.2 billion, with Indonesia's exports to the EU amounting to USD14.5 billion and imports around USD10.7 billion resulting in a surplus of USD3.8 billion.
Meanwhile, the value of EU investment in Indonesia in 2016 amounted to USD2, 6 billion with the number of 2813 projects.
In an effort to improve bilateral economic cooperation, the Minister of Industry also encourages the acceleration of the completion of the Indonesia-European Union Comprehensive Economic Partnership Agreement (IEU-CEPA).
The 4th IEU-CEPA negotiations were held in February 2018 in Surakarta, Central Java. "The fifth negotiation will take place in July 2018 in Brussels, Belgium," he said.
The 15 negotiation issues are discussed, namely Trade in Goods, Rules of Origin, Customs and Trade Facilitation, Technical Barriers to Trade, Sanitary and Phytosanitary, Trade Remedies, Trade in Services, Investment, Competition, Small and Medium Enterprises, Government Procurement, Economic Cooperation and Capacity Building (ECCB), Intellectual Property Rights, Trade and Sustainable Development, and Dispute Settlement.
In addition, the Minister of Airlangga actively spur increased cooperation between national industry actors and industry players in the countries of the European Union.
"This partnership is expected to attract investment and technology transfer, some European companies already exist in Indonesia, we also invite to continue expansion," he explained.
The expansion of such cooperation, for example in the air transport industry sector, between PT Dirgantara Indonesia (PT DI) and Airbus.
Airlangga said that PT DI has been supplying several aircraft components to support Airbus production such as Airbus EADS CASA C-295 military aircraft and Airbus (Eurocopter) helicopters.
"We hope that the Eurocopter market can be expanded again," he said.
The same thing delivered by Vincent, so far PT DI has been involved in the supply chain of Airbus airplane and helicopter production process.
"Some Airbus spare parts are made in Bandung (PT DI) and then sent to all over the world through Airbus aircraft products, which is a good example of cooperation and needs to be improved," he said.
Vincent also said that the EU delegation consisting of 50 companies will visit Indonesia in October to offer a cooperative concept called circular economy, in addition to exploring cooperation in the industrial sector.
"Circular economy is a new concept that is being encouraged in Europe with the aim of reducing waste and increasing waste recycling," he explained.