Official Operating in Karawang, B. Braun Indonesia Produces One Million Bottles Influenza per Month
By : Kormen Barus And Aldo Bella Putra | Tuesday, June 26 2018 - 15:30 IWST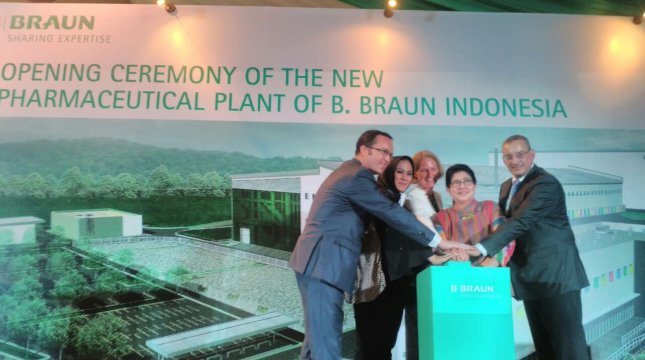 Menteri Kesehatan Nila F. Moeloek meresmikan pabrik cairan infus B.Braun di Kawasan Industri Indotaisei, Cikamepk, Karawang, Kamis (27/7/2017). (Irvan AF/INDUSTRY)
INDUSTRY.co.id - Karawang - B. Braun Indonesia officially started the commercial production of its liquid factory in Karawang on Monday, 25 June 2018. In his press statement, received by the editor, on Monday (25/06/2018), Antonia Enny Indrayanti, Director of Human Resource & Corporate Communications B. Braun Indonesia, said the pharmaceutical product manufacturing facility will produce more than one million bottles per month to support the needs of the Indonesian people for quality yet affordable infusion fluids.
This manufacturing facility was officially opened by the Minister of Health of the Republic of Indonesia on July 27, 2017 who was accompanied by Member of the Management Board B. Braun Melsungen and President B. Braun Asia Pacific, Anna Maria Braun.
B. Braun's investment in the manufacturing facility is in synergy with Presidential Instruction No. 6 of 2016 on the Acceleration of Development of Pharmaceutical Industry and Substance, and Regulation of the Minister of Health of the Republic of Indonesia No. 17/2017 on Action Plan for Development of Pharmaceutical Industry and Medical Device.
According to him, when commercial production begins to operate, Indonesia will be able to minimize its dependence on imported products and even able to change its position as an exporting country - able to anticipate the supply of medical needs in the future.
Built on an area of ​​19 hectares with an investment value of more than one trillion Rupiah, this facility has the latest building and production technology and has been certified by the Food and Drug Supervisory Agency (BPOM) on January 30, 2018.
Its annual production capacity is able to penetrate the number of 15 million bottles for stage one and 50 million bottles for the next two stages. This outstanding manufacturing facility produces Ecosol Ringer Lactate, Ecosol Sodium Chloride 0.9%, Ecosol Glucose 5%, Ecosol Glucose 10%, Ecosol Glucose 5% & Sodium Chloride 0.9%, Ecosol Water for Injection and ISO Sterofundin.
Managing Director of B. Braun Indonesia, Rainer Ruppel revealed, "For nearly 40 years, B. Braun has lived in Indonesia to implement his vision to protect and improve the health of people around the world. Today, we are continuing our commitment to this nation by starting our commercial manufacturing facility production in Cikampek, Karawang. We strive to provide the best products and services, with a primary focus on process optimization, security, partnerships, and progress. "
With over 62,000 employees in 64 countries around the world, B. Braun is the world's leading healthcare company that specializes in providing intravenous, orthopedic, neurosurgical, anesthesia, extracorporeal blood treatment, spine surgery, diabetes care, clinical nutrition, wound management, infection prevention, and surgical technology. In 2017, B. Braun achieved sales of 6.78 trillion euros.
In Indonesia, B. Braun has two legal entities, namely B. Braun Medical Indonesia headquartered in Jakarta; and B. Braun Pharmaceutical Indonesia in Karawang, West Java. B. Braun Medical Indonesia markets and distributes medical equipment and pharmaceutical products. B. Braun's sales office is spread all over the country and proudly plays a role in education and training of medical personnel and health experts in accordance with the company's vision to improve overall health services in Indonesia.