Kartasura-Sragen Toll Operates Tuesday
By : Anisa Triyuli And Aldi Firhand A | Monday, July 16 2018 - 21:18 IWST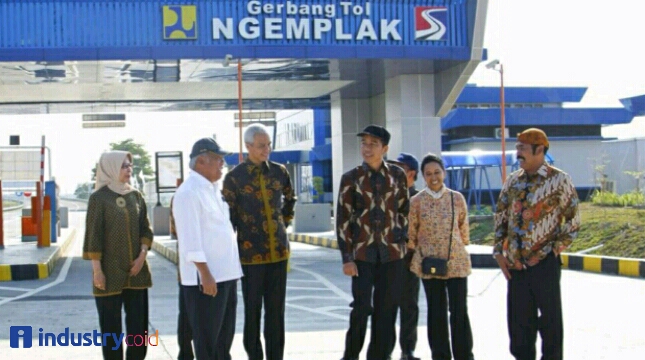 President Jokowi Inaugurates Toll Kartosuro - Sragen
INDUSTRY.co.id - Jakarta - PT Jasamarga Solo Ngawi stated that the user has been able to pass Solo Ngawi Toll Road segment Kartasura-Sragen after being inaugurated by President Joko Widodo on Sunday at Toll Gate (GT) Ngemplak, Boyolali District.
President Director of PT Jasamarga Solo Ngawi (JSN), David Wijayatno, said in a written statement in Jakarta, Sunday (15/7/2018) that the 36km toll road will be fully operational and the tariff will begin on Tuesday (17/7/2018).
"Starting this afternoon, people can enjoy the Solo-Ngawi Toll Road Toll Road, but starting Tuesday, July 17, 2018 at 00.00 WIB already applied tariffs," said David.
The Solo-Ngawi Toll Road applies non-cash transactions, so that toll road users who will carry out toll transactions must prepare electronic money with sufficient balance.
The Ministry of PUPR has determined the types of motor vehicles and toll tariff rates on the Segment Kartasura-Sragen Toll Road through Ministerial Decree No. 388 / KPTS / M / 2018 dated June 8, 2018.
Based on the decree of the Minister of PUPR, the determination of motor vehicle group and the toll tariff that will be valid starting from July 17, 2018 starting at 00.00 WIB for vehicle class I from Kartasura to Sragen is Rp35.000.
In his speech, President Joko Widodo said that the development of toll road infrastructure should also have an impact on the growth of Micro, Small and Medium Enterprises (MSMEs) in the vicinity of toll roads.
"I just pointed out the toll road not only smooth the goods, services, and people, lower the logistics cost.It has been alluded to by the Minister of Public Works on the 'rest area', do not get the point that economic activity filled brand, foreign brands, but filled with food and handicrafts local, "said Jokowi.
Minister of Public Works and People's Housing, Basuki Hadimuljono, who attended the inauguration, said that the Solo-Ngawi Toll Road built with the investment value of Rp13, 4 trillion is unique because it synergizes with airport transportation modes.
"In the back of Kadipiro-Purwodadi to Adi Soemarmo Airport, the 'crane' is a railway line to the airport that has been started," said Basuki.
There is also PT Jasamarga Solo Ngawi is a Jasa Marga business group managing Solo-Ngawi Toll Road. Solo-Ngawi Toll along the 90.43 kilometer is equipped with eight Toll Gate (GT), namely GT Colomadu, GT Airport, GT Ngemplak, GT Purwodadi, GT Karanganyar, GT Sragen, GT East Sragen, and GT Ngawi (Ngawi City).
To facilitate the community in accessing toll roads, PT JSN also prepares delta interchanges (SS) in Kartasura / Colomadu, Airport, Ngemplak, Purwodadi, Karanganyar, Sragen, East Sragen and Ngawi.
The Solo-Ngawi Toll Road consists of three stages of operation, namely Phase I of SS Ngawi-Klitik (Ngawi) Segment along 4 km has been operating since March 30, 2018, Phase II Kartasura-Sragen was inaugurated on July 15, 2018, Phase III Sragen-Ngawi in stage completion of the construction of five "overpass".
In the implementation of the homecoming flow and return of Lebaran 2018, Solo-Ngawi Toll Road has been operated without tariff as functional highway, this becomes one of socialization efforts conducted by PT JSN.