Accountability for Infrastructure Development Supports Quality Development
By : Hariyanto And Aldi Firhand. A | Wednesday, July 18 2018 - 22:36 IWST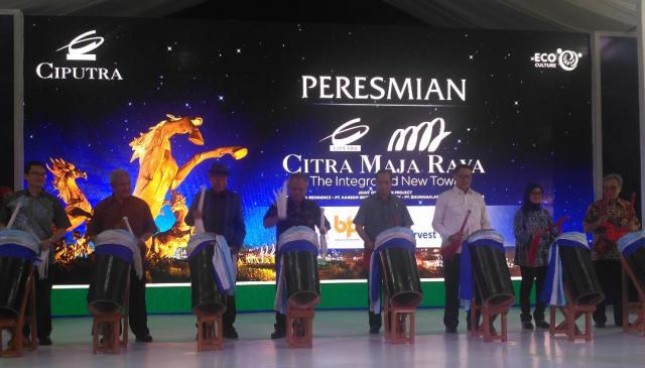 Inauguration of Citra Maja Raya by Minister of Public Works and Public Housing Basuki Hadimuljono and Minister of Transportation Budi Karya Sumadi Saturday (18/11/2017). (Photo: INDUSTRY.co.id)
INDUSTRY.co.id - Jakarta - Ministry of Public Works and Public Housing (PUPR) continues to improve accountability of procurement of goods and services (PBJ) so that infrastructure development can support economic growth and even distribution of development results. This is in accordance with the mandate of Vice President Jusuf Kalla (JK) that the budget spent should be able to produce quality development.
"The result of a high quality development is growth. Now our economy grows 5.04%, although of course our target is higher. But not only grow but also equity so it is enjoyed all. In addition it provides a multiplier effect on other businesses, which can expand employment and increase income for the wider community. Of course that's what we aim for as a quality development, "said Vice President Jusuf Kalla at the National Coordination Meeting of Internal Control of the Year 2018 with the theme" Guarding Procurement Accountability for Government Goods and Services for Quality Development "at the Office of the Supervisory Board of Finance and Development (BPKP) Jakarta, Tuesday (7/17/2018).
Then quality development is also influenced by good coordination from planning in Bappenas, budgeting at the Ministry of Finance and its implementation by the Ministry / Institution (K / L). In addition, supervision by BPK, BPKP, KPK, Attorney, Police and Inspectorate General as the Government Internal Supervisory Apparatus (APIP) to be used in an effective and efficient program.
In a discussion session on PBJ Policy Perspective, one of the speakers was Minister of Public Works and Public Housing (PUPR) Basuki Hadimuljono. On the occasion, Minister Basuki said that the role of BPKP as Government auditor is very important to provide intensive assistance for infrastructure development implemented by the Ministry of PUPR such as roads and bridges, dams, irrigation, flats, special houses, drinking water, garbage, , running according to the rules.
In the implementation of infrastructure development in the Ministry of PUPR there is a project cycle called SIDLACOM (Survey, Investigation, Design, Land Acquisition, Construction, Operation and Maintenance), which each stage requires BPKP assistance.
"Since the programming, then at the time of land procurement, especially now using the funds LMAN (Asset Management Institute of the State) all require audits from BPKP. During construction, there will be a change (addendum contract) which requires a review of BPKP. We will not be able to work quickly without BPKP and TP4P / D (Team Guard, Government Protection and Central / Regional Development), "said Minister Basuki.
He added that there is also infrastructure development based on the special assignment of President Joko Widodo's discretion in a limited meeting or meeting of the Working Cabinet outside the existing program. Among them is the construction of sports venues for the 18th Asian Games and the redevelopment of Pasar Atas Bukittinggi in West Sumatra.
In addition, the development of infrastructure financing using the scheme of Cooperation between Government and Business Entity (KPBU) also get assistance and supervision from BPKP.
Minister Basuki also conveyed that BPKP guidance continues to provide guidance to auditors at the Inspectorate General K / L on Government Internal Control System (SPIP) to improve accountability and performance transparency.
"We expect BPKP as the Government's auditor to ground SPIP consisting of five elements of the control environment, risk assessment, control activities, information and communication and monitoring of internal control," said Minister Basuki who previously served as Inspector General of the Ministry of Public Works for 5 years.
The role of Government Internal Supervisory Apparatus (APIP) in the Ministry of PUPR or Inspectorate General is now not only to review the financial report but also to review the program to fulfill the principle of money follow program. Thus the procurement of goods and services that will be done is not a procured inventory, but really for the purpose and the obvious needs.