South Korean businessman complains about the complicated regulations in Indonesia
By : Ridwan And Aldi Firhand. A | Monday, August 06 2018 - 22:36 IWST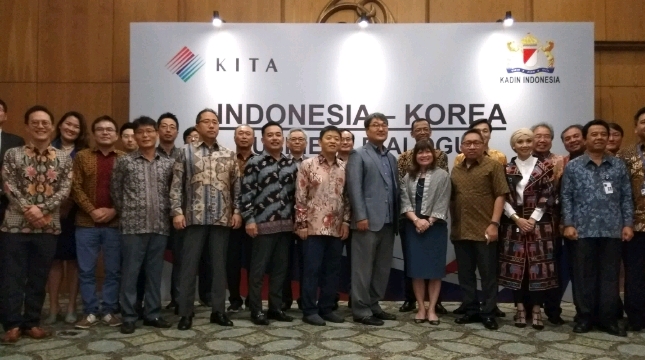 The FGD on Non Tariff Berrier held by Kadin and KITA (Photo: Ridwan / Industry.co.id)
INDUSTRY.co.id - Tangerang, the Indonesian Chamber of Commerce and Industry (Kadin) in cooperation with the Korea International Trade Association (KITA) held a Focus Group Discussion (FGD) on Non Tariff Barriers.
FGD held at ICE BSD Tangerang, Monday (08/06/2018) was focused on the fields of investment, certification, logistics, Free Trade Agreement (FTA), and customs.
Kadin Deputy Chairperson for International Relations Shinta W. Kamdani said the non-tariff barrier (NTB) remained a complaint for South Korean (South Korean) investors.
"Their complaints are related to nontariff barriers (NTB) which are actually not new. Regulations are one of the issues that continue to hamper investors," Shinta said.
Shinta added, the challenge in the context of NTB which was expressed by South Korean businessmen in general had not departed from the complexity of regulation. Regarding online single submission (OSS), for example, local entrepreneurs only often face difficulties so it is natural that foreign investors also complain about the same.
"There are still many OSS that have not yet been integrated, at most only where they can only get the business number, where is it?" Shinta said.
Shinta stressed that in general South Korean businessmen have an intense intense desire to increase the penetration of their business in Indonesia. The problem is that non-tariff barriers make the owners of capital think again.
According to him, the aspirations of South Korean investors cannot be ignored considering they are the seventh largest trading partner for Indonesia with a fairly balanced trade balance. The trade value between Indonesia and South Korea at the same time reached US $ 16.31 billion. This value was recorded to increase year on year, as of the end of 2016, it only touched US $ 13.68 billion.
During the past year, South Korea was ranked fifth as the most invested investor through 3,274 projects worth a total of US $ 2.2 billion.
South Korea is claimed to be able to follow the trend of high-tech manufacturing and creative industries with great potential for added value. This is in line with world trade trends. Meanwhile, Indonesia is still dependent on basic commodities and industries.
Therefore, Shinta reminded again about the deepening of domestic industry drainage so as not to be trapped in the dependence of imported raw materials.
"We have to see what industry we can focus on and the potential market to which country. This must be identified, "Shinta said.
Furthermore, Shinta took the example of Thailand. This Thousand Pagoda country has a more impressive export performance than RI. Unlike Indonesia, Thailand chose to focus only on certain industrial sectors which were considered the most realistic to be driven, such as automotive.
"Well, Indonesia should be able to look in the mirror from a neighboring country. If it is difficult to shift Thailand's prestige in manufacturing automotive products, RI can target other industries," he said
Shinta mentioned the domestic petrochemical industry sector that has the potential to be seeded from the upstream to the downstream side. However, looking at the internal economy of the Republic of Indonesia when the most realistic way to accelerate the deepening of the industrial flow is the commodity sector.
"Meanwhile, in the near future, which can increase our exports, commodities," said Shinta.
Shinta hopes that this FGD can produce a real picture regarding the aspirations of South Korean investors to the Indonesian government.
"This FGD is actually also part of the preparation for the president's visit to South Korea. We try to discuss, what is still an obstacle in the trade of two countries. "Complaints] that arise mainly talk about non-tariff barriers," concluded Shinta.
Besides being attended by Indonesian businessmen from various sectors such as logistics, food, electricity, electronics, e-commerce, retail and automotive, the meeting was also attended by Korean companies in Indonesia such as PT CJ Logistics Indonesia, PT Moin Bumi, Taiwan Electric Wire , PT Hankook Tire Indonesia, PT KT & G Indonesia, Korindo Group, PT Indo Lotte Makmur, PT Samsung Electronics Indonesia and PT International Total Service and Logistics (ITL).
Also present were Chairman of the Korean Committee of Kadin Jongkie Sugiarto, US Representative of the Jakarta Center Daniel Kweon, Director General of ILMATE Ministry of Industry Harjanto, representative from the Investment Coordinating Board (BKPM), Ministry of Trade of the Republic of Indonesia and Ministry of Foreign Affairs.