KAI Operates Waste Transport Trains
By : Ahmad Fadli And Aldi Firhand. A | Friday, August 10 2018 - 23:19 IWST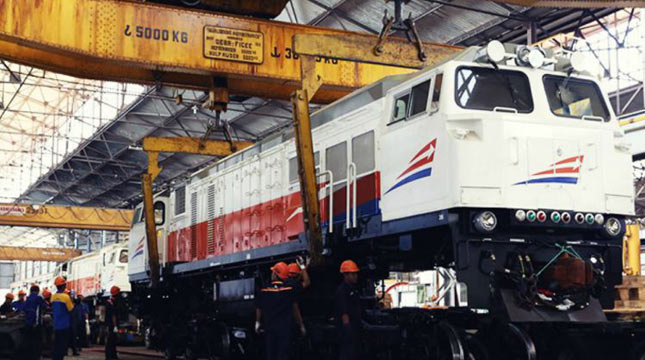 PT Kereta Api Indonesia
INDUSTRY.co.id - Jakarta - Recently, PT Kereta Api Indonesia (KAI) officially began operating a train (KA) specifically to transport waste by serving the transport of waste containers belonging to a waste processing company, PT Prasada Pamunah Limbah Industri (PPLI).
The inauguration of the inaugural operational of the waste container transport railroad was carried out by the Director of Safety and Security who was also PT KAI's Commercial and IT Director, Apriyono Wedi Chresnanto and Director of Traffic and Railway Transportation of the Ministry of Transportation, Zulmafendi at Kalimas Station, Surabaya.
Apriyono said that in the initial operation KAI provided 10 flat carriages (GD) with a capacity of 20 TEUs, equivalent to 360 tons departing from Kalimas Station, Surabaya, to Nambo Station, Bogor. "Furthermore, this transportation will be carried out regularly twice a week with a total of 10 TEUs or 5 GD which is equivalent to 180 tons for each departure," he said.
Apriyono explained, for waste transportation by train mode, KAI through its subsidiary, PT Kereta Api Logistics (KALOG), will transport PPLI's waste containers. These services include loading and unloading activities at both the loading and unloading stations. The waste to be transported is a type of waste that requires special handling with the lowest risk level.
"To ensure the transportation of this waste meets security aspects, we together with KALOG have equipped the Kabus car (special cabin) with escort of certified personnel handling waste and is tasked with conducting inspections at five stop stations, namely in Cepu, Semarang, Tegal, Cirebon and Tanah Abang, "He explained.
In addition, KAI, KALOG and PPLI have also formed an emergency response team that will respond quickly to any unexpected events. "We also completed the emergency shelter with the facilities of several tool kits for handling waste at Kalimas and Nambo Stations," added Apriyono.
According to him, transportation of waste with this train is the first in Indonesia and is believed to be more effective and efficient compared to the previous transportation by truck, because travel time can be reduced from around 2-3 days to only 15-16 hours. The speed of travel time will allow waste to be managed professionally so that the impact does not damage the environment.
"So the waste transportation by train is also one form of KAI's support and concern for environmental sustainability," said Apriyono.
While the Acting Managing Director of KALOG, Junaidi Nasution added that in the future it is expected that the waste container transport service will run every day as more and more interested people. At present, in addition to Surabaya, the offer to transport the waste container trains also comes from Semarang. The cost of transporting this waste container truck also competes with truck transportation.
"The price per container is between Rp. 10 to 12 million. We think that the price will not turn off the existing trucking, "he said