Home Credit Indonesia-AirAsia Extends Access to Online Financing Services
By : Herry Barus And Aldi Firhand. A | Wednesday, August 29 2018 - 21:20 IWST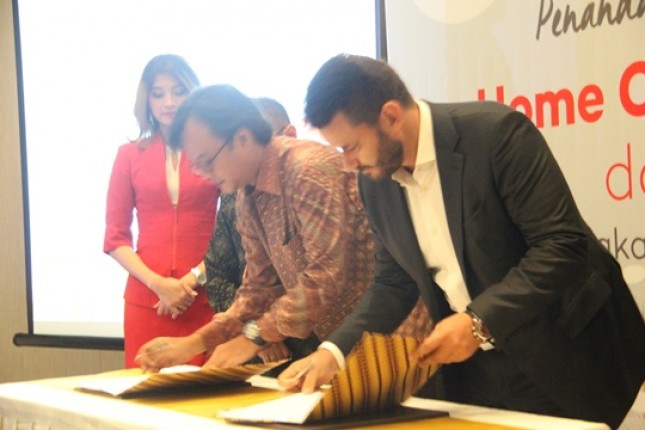 Indonesian Home Credit works with AirAsia (Photo Doc of Industry.co.id)
INDUSTRY.co.id - Jakarta - The latest technology-based multipurpose financing company in Indonesia, PT Home Credit Indonesia has agreed to establish a partnership with AirAsia Indonesia, the affiliate airline of the AirAsia Group.
This partnership was marked by the signing of a cooperation agreement carried out by PT Home Credit Indonesia Chief Executive Officer Jaroslav Gaisler and the Chief Executive Officer of the AirAsia Group in Indonesia, Dendy Kurniawan at Fairmont, Jakarta Monday (08/27/18).
This cooperation is intended to provide access to online financing provided by Home Credit for consumers who wish to travel using AirAsia airlines. This is the first collaboration in Indonesia, where the finance company is one of the options for payment for airlines in the country.
PT Home Credit Indonesia Chief Executive Officer Jaroslav Gaisler said, "We are proud to announce the collaboration with AirAsia as one of the best airlines in Indonesia. This partnership cooperation also marks our readiness to expand access to online financing services, especially for air transportation services. Through this collaboration, we can offer more financing options for people in Indonesia. "
According to the Central Statistics Agency (BPS), users of air, sea and rail transportation modes have increased throughout 2017. Domestic destination air transport users in 2017 reached 89.4 million people, up 11.07% and the number of international passengers reached 16 , 6 million people, up 12.43% compared to the same period in 2016.
The need for air transportation in Indonesia is expected to continue to increase in 2018. This is in line with an increase in economic growth. In addition, recreation can now be said to be a primary need, no longer a secondary need. Therefore, with the cooperation between Home Credit and AirAsia, Home Credit is committed to helping consumers realize their dreams through easy and responsible financing access.
Jarda, Jaroslav Gaisler's nickname, added that along with the increasingly real and rapid development of technology, Home Credit focused on developing online financing, so consumers could easily submit financing anywhere and anytime. With a blend of technological innovation and unparalleled global reach, Home Credit is changing the way the world is shopping.
The Chief Executive Officer of the AirAsia Group in Indonesia, Dendy Kurniawan said, "Presenting quality low-cost airline services for everyone is always the main focus of AirAsia. We welcome the partnership with Home Credit Indonesia as one of the developing finance companies in the country, because this collaboration will further enrich the choice of online payment services for customers, so planning trips to hundreds of AirAsia destinations is becoming easier and more convenient. In addition, we also hope that this cooperation can support the business growth of both parties and reinforce the existence of companies in their respective industries in Indonesia. "
Through Home Credit's online financing service, customers can shop online on AirAsia's official website through easy, practical and fast credit card installments. Customers simply choose Home Credit as a payment method, and with about 30 minutes, the customer can already know the approval or rejection of the intended application.
As a technology-based multipurpose financing company in Indonesia, Home Credit Indonesia provides access to financing that is smooth, reliable and secure in an increasingly connected world. Home Credit continues to strive to develop business in the country.
In the first half of 2018, Home Credit managed to record financing of Rp.4.4 trillion, up more than 100% compared to the total financing in 2017 in the same period of Rp.2.1 trillion. At present, the Home Credit area has reached 114 cities throughout Indonesia and serves more than 2.7 million customers.