Minister of Industry Airlangga: Control of Imports Boosts Production of Domestic Industries
By : Ridwan And Aldi Firhand. A | Thursday, September 06 2018 - 21:36 IWST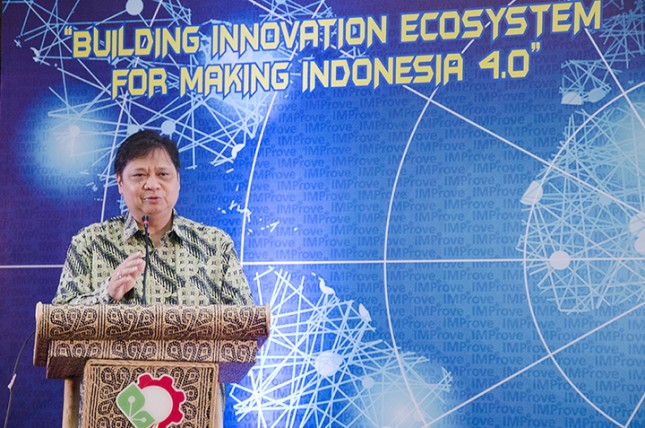 Menteri Perindustrian Airlangga Hartarto (Foto: Dok. Kemenperin)
INDUSTRY.co.id - Jakarta, the Minister of Industry (Menperin) Airlangga Hartarto said that the import control system was also believed to be able to boost domestic industrial production.
According to Airlangga, basically the industry in Indonesia already exists and is ready to add production to meet the needs of the domestic and export markets.
"One example of a sector whose development is being prioritized by the government, especially in the face of the 4.0 industrial revolution, namely the automotive sector," said Minister of Industry in Jakarta, Thursday (09/06/2018).
Airlangga said, for example, Toyota Group's investment commitment in Indonesia for the past 2-3 years reached IDR 20 trillion. Then, they target the total export of CBU cars this year to 217 thousand units or worth more than USD3 million.
"In the middle of this month there will also be exports from Suzuki, so that overall exports this year will penetrate up to 250 thousand units," he added.
Through this increase in exports it is considered to be able to improve the structural economy of Indonesia, namely the current account deficit.
Airlangga added, in order to maintain Indonesia's economic fundamentals, controlling imports of luxury cars will be effective this month. Vehicles that will be directly affected are cars that have capacities above 3000 cc and which are categorized as supercars.
"But if it's already on the way, then continue. For the category in terms of price is already high and we already have criteria according to PPnBM. For example in the supercar category. There is no supercar that is not luxurious," he said.
In terms of the actual number of luxury car import quota has been small for Indonesia. But with the ban on the import of luxury cars, the government wants to show its commitment to domestic car production.
"Indeed in terms of numbers it is not large, but through this policy it is a signal that we prioritize national production that contributes to our economy," he explained.
The government hopes that with the import control policy including for luxury cars, the domestic automotive industry can increase its export capacity so that it can bring in foreign exchange for the country.
Airlangga also mentioned, several mainstay sectors that could spur export value, including food and beverage industry, chemical and chemical goods industry, metal processing industry, textile and textile products industry, and rubber processing industry.
"So we hope that now the industry can see this opportunity to replace imported products, because now the goods become 15-20% more expensive. This is what we make siding with domestic industries, "said Finance Minister Sri Mulyani, Wednesday (5/9).
With this new tariff adjustment, the import burden that has been undermining the country's foreign exchange can be reduced by 2 percent compared to last year.
"For the study, a 2-4 percent increase in the import duty rate will reduce our import value by around 1 percent. So if the PPh is considered to be more or less the same as the import duty, the decline in imports is around 2 percent year on year, "added the Minister of Finance.