RI-South Korea Signs MoU Extension for e-government
By : Ridwan And Aldi Firhand. A | Monday, September 10 2018 - 19:09 IWST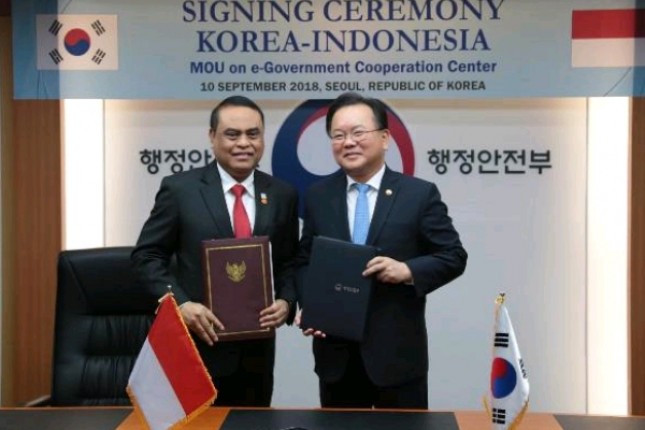 Minister of Administrative Reform and Bureaucratic Reform (PANRB) Syafruddin, Minister of Home Affairs and Security of the Republic of Korea Kim Boo Kyum when signing the MoU (Photo: Doc. Kemenrb Ministry)
INDUSTRY.co.id - Seoul, Minister of Administrative Reform and Bureaucratic Reform (PANRB) Syafruddin signed a Memorandum of Understanding (MoU) with the Minister of the Interior and Security (Minister of the Interior and Safety, MOIS) of the Republic of Korea Kim Boo Kyum in Seoul, Monday (10/09 / 2018) local time.
This signing is an extension of the previous MoU in the field of e-government through the center of Indonesia-Korea e-government cooperation (Electronic Government Cooperation Center, e-GCC) as a form of cooperation between the government of the Republic of Indonesia and the Republic of Korea.
The existence of E-GCC which was formed since March 2016 is very important and the Indonesian government receives great benefits to accelerate the implementation of e-government in Indonesia, including e-government roadmap for Indonesia, planning integrated information sharing, electronic document standardization, and e-government evaluation method for measuring the index of e-government development.
These results have been implemented into the draft policy of the Presidential Regulation on Electronic Based Government Systems (SPBE), SPBE Master Plan, Electronic Archives Standardization, and SPBE Evaluation Implementation in all Government Agencies.
Present at the occasion were Deputy for Institutions and Management of the Ministry of National PANRR, Rini Widyantini, Expert Staff of the Ministry of Political and Security Affairs, Teguh Widjinarko, Deputy Assistant for Policy Formulation and Coordination of Implementation of Government Administration Systems and Implementation of Electronic-Based Government Systems, PANRB Ministry Imam Machdi, Head of Performance Planning and Ministry of PANRB Budget, Adi Junjunan Mustafa, Head of the Ministry of National Cooperation's Cooperation Section, Dhega Khadir, and Head of SPBE Monitoring and Evaluation Sub-Division Sigit Supriyanto.
Meanwhile, the MOIS parties present included the General Director of e-Government Bureau Chung Yonkee and Global e-Government Director Kim Kibyoung