Gov't to Boost Community Economy through Religious Festivity Allowance, Social Protection
By : Nata Kesuma | Tuesday, April 20 2021 - 20:05 IWST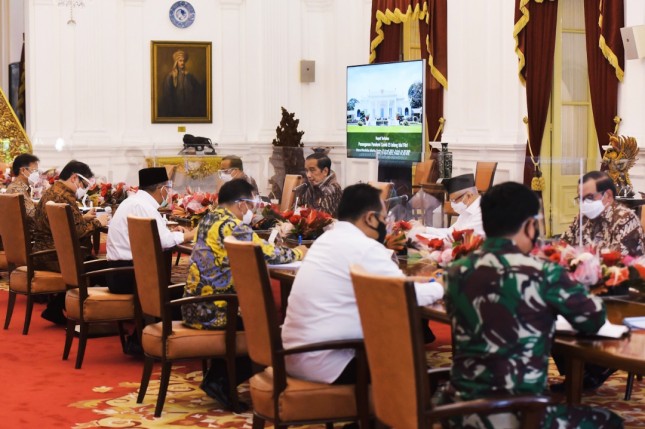 President Jokowi chairs a Limited Meeting on Handling of COVID-19 Pandemic ahead of Eid Al-Fitr 1442 Hijri, at the Merdeka Palace, Jakarta, Monday (19/4). (Photo by: PR of Cabinet Secretariat/Agung)
INDUSTRY.co.id - The Government has announced that it will continue to maintain the balance of COVID-19 handling and national economic recovery, including during the holy month of Ramadan and Eid Al-Fitr 1442 Hijri, Coordinating Minister for Economic Affairs Airlangga Hartarto has said.
The Coordinating Minister made the statement after attending a limited meeting chaired by President Joko "Jokowi" Widodo at the Presidential Palace, Jakarta, Monday (19/4).
Airlangga, who also helms the Working Committee for COVID-19 Handling and National Economic Recovery (KPCPEN), stated that in an effort to control COVID-19 spread ahead of Eid al-Fitr, the Government has issued a policy to restrict community activities for both homecoming and traveling.
Travel requirements will be also tightened. Travelers are required to take a COVID-19 test either through PCR test, antigen rapid test, or GeNose C19 test.
In the meantime, the leverage of the economy and people's purchasing power will be carried out through Religious Festivity Allowance (THR) for workers/laborers, State Civil Apparatus (ASN), and personnel of the Indonesian National Defense Forces (TNI) and National Police (Polri).
"Minister of Manpower has issued Circular Number M/6/HK.04/IV/2021 on THR Payment for Workers that must be paid in full and no longer than 7 days prior to Eid al-Fitr. Meanwhile, THR for ASN and TNI-Polri personnel will be finalized by Minister of Finance and must be paid 10 days prior (to Eid al-Fitr)," Airlangga said.
In addition, the Government also continues to accelerate the distribution of social protection (Perlinsos) and staple food card programs.
"Regarding the social protection and staple food card programs, we continue to accelerate the distribution in May and June and it will start in early May. The social assistance in the form of rice is still carefully planned, 10 kilograms of rice for each beneficiary of staple food card program who are not included in Family Hope Program (PKH)," he said.
The Government will also conduct a Ramadan National Online Shopping Day (Harbolnas) Program, which will be held for 5 days prior to Eid Day (D-10 to D-6).
"Shipping costs are borne by the Government or digital platforms," ​​he added.
In his press statement, the Coordinating Minister also revealed that there is a sharp increase in national expenditure growth in April 2021.
"Based on the big data from banks, it has been seen that the growth of national spending in April experienced a significant increase with a non-seasonally adjusted rate of 32.48 percent (year-on-year/YoY) and seasonally adjusted rate of 13.11 percent (YoY)," Airlangga said.
In addition to the achievement of Indonesia's manufacturing Purchasing Managers Index (PMI) that rose to a record-​high at 53.2 in March 2021, the industrial sector also recorded significant revenue growth.
"The revenue from the industrial sector has increased with a non-seasonally adjusted rate of 10.26 percent (YoY) and seasonally adjusted rate of 1.46 percent (YoY)," he stated. (FID/UN) (RIF/MMB)