Indonesia-Vietnam Bilateral Meeting Discusses Health Issue, Regional Stability
By : Nata Kesuma | Monday, April 26 2021 - 15:10 IWST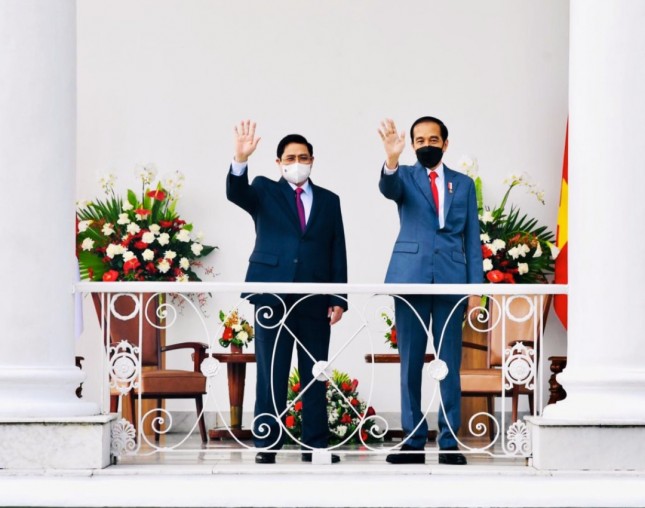 President Joko "Jokowi" Widodo and Prime Minister Vietnam at Bogor Presidential Palace in West Java province
INDUSTRY.co.id - President Joko "Jokowi" Widodo Friday (23/04) afternoon held a bilateral meeting with Prime Minister of Vietnam Phạm Minh Chính at Bogor Presidential Palace in West Java province.
The President began the meeting by congratulating his Vietnamese counterpart for his inauguration as the Prime Minister of Vietnam on 5 April 2021.
The Prime Minister replaced former Prime Minister Nguyễn Xuân Phúc and will be in office from this year to 2026.
"At the beginning of the meeting, the President congratulated His Excellency Phạm Minh Chính for his election as the new Prime Minister of Vietnam," Indonesian Minister of Foreign Affairs Retno L. P. Marsudi told the press after attending the meeting.
According to Retno, during the meeting President Jokowi stressed that Indonesia is committed to continuing bilateral relation that is mutually beneficial for the people of the two neighboring countries.
"The President said that Vietnam is Indonesia's best friend and Vietnam is Indonesia's strategic partner in the region of Southeast Asia. The President also expressed hope that Indonesia and Vietnam can continue to cooperate so both countries can come out of the pandemic and continue to maintain stability and security in the region," she said, adding that President Jokowi focused on a number of issues in the meeting.
The President emphasized the importance of strengthening cooperation in the health sector, especially in light of the pandemic that is not over yet, Retno said.
"The President pushed both countries to continue to voice equal access to vaccines for all countries and, in the long term, to create health security in Southeast Asia," she remarked, adding that the President also underscored the importance of strengthening cooperation in the economic sector.
"The President invited Vietnam to lower barriers in both the trade and investment sectors," Retno stated.
Vietnam, she added, is Indonesia's fourth-largest trade partner in ASEAN and the value of trade between both countries almost doubled in the last five years.
"Indonesia is number 28 in FDI (Foreign Direct Investment) and Vietnam is number five in ASEAN FDI. Indonesia's investment in Vietnam is in the sectors of mining, packaging, coal, cement, property, husbandry, automotive, and so on," Retno said.
Retno went on to say that the Head of State also underscored the importance of speeding up negotiation on boundaries of exclusive economic zones (EEZ) that has been ongoing for 11 years.
The President suggested that technical teams of both countries can immediately discuss it again and finish the negotiation, she added.
"The President underscored that it is crucial to finish the negotiation as it provides clarity about each country's EEZ and reduces the possibility of fishing boat incidents. (The President) also stressed the importance of settling claims of EEZ boundaries between countries based on international law, namely 1982 UNCLOS," she remarked.