Gov't Suspends Visits, Limited Stay Visas for Travelers from India to Prevent New Virus Mutation
By : Nata Kesuma | Tuesday, April 27 2021 - 22:05 IWST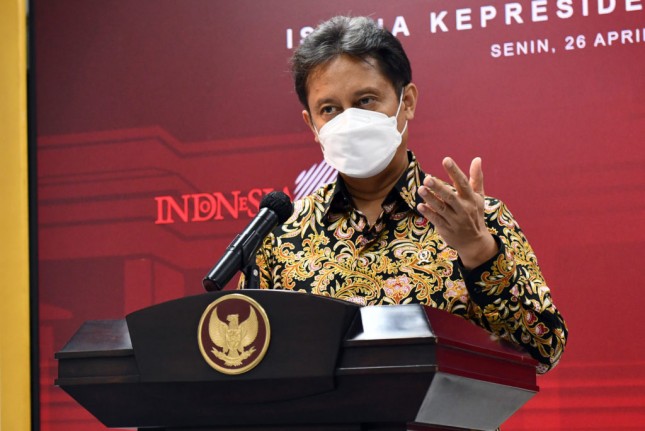 Press statement of Minister of Health Budi G. Sadikin after a limited meeting on COVID-19 pandemic management at the Presidential Office in Jakarta, Monday (26/04/2021). (Photo: PR of Cabinet Secretariat/Rahmat)
INDUSTRY.co.id - In a bid to curb COVID-19 transmission, Minister of Health Budi Gunadi Sadikin has announced that the Government is temporarily denying entry and suspending visit as well as limited stay visas for visitors who traveled from India in the last fourteen days.
Budi also reminded the public to stay vigilant of COVID-19 transmission and to maintain balance between health and economy, which has fared well.
"The President also reminded (us) that the current balance is optimal, balanced between the health and economic aspects. The measures we have taken have truly brought positive impacts on the health aspect, the indicators also increased," he told the press after attending a limited meeting on COVID-19 management at the Presidential Office in Special Capital Region of Jakarta, Monday (26/04).
According to Budi, the spike in cases in India was caused by a new virus mutation that entered the South Asian country, B117, and a local mutation, B1617.
Budi also said that the new virus mutations have entered Indonesia and infected ten people.
Six cases were imported and four other cases were caused by local transmission, two in Sumatra island, one in West Java province, and one in South Kalimantan province.
"So, we will be much more careful to control whether there are cases with the new mutations in provinces of Sumatra and Kalimantan islands, and West Java province," he said, adding that the Government has temporarily suspended the granting of visit visas and limited stay visas, as well as denied entry for foreigners who have been to India in the last 14 days before entering Indonesia.
However, Budi said, the regulation does not apply to Indonesian nationals returning to Indonesia, adding that they are allowed to enter the country with strict health protocols, so they will be quarantined for 14 days.
"Points of arrival have been arranged yesterday by the Coordinating Minister, only at Soekarno Hatta, Juanda, Kualanamu, and Sam Ratulangi (airports). (Arrivals through) ports are only allowed in Batam, Tanjungpinang, and Dumai ports. And we ensure that everyone who has come to or visited India will be tested for genome sequencing, so we can truly see whether there is a new mutation," he stated.
Budi went on to say that stricter health protocols are also required for Indonesian migrant workers who are returning to Indonesia, adding that approximately tens of thousands of migrant workers will return to Indonesia.
"Over 100,000 (people) have entered and tens of thousands more will enter, so we will do stricter screening and quarantine process at several points including Batam island, Riau islands, and Indonesian-Malaysian Sabah and Sarawak states border areas, such as Entikong, Nunukan, and Malinau. Thus, those who enter the country will be tested and we will send the test results for genome sequencing to protect Indonesian people from the first potential mistake because of the entry of a new virus mutation," he said.
Budi also reminded the public that the spike in COVID-19 cases in India was due to the lack of vigilance in observing health protocols, which was caused by a false sense of security that arose from the thought of a successful vaccination and a decrease in COVID-19 cases. Therefore, he appealed to the public to remain disciplined in observing health protocols.
"Therefore, let me remind you again to observe health protocols. Do not let the hard work we have done all this time, the balance, as the President said, that we have achieved turn in vain because we are too rushed, too hastened, no longer vigilant, as the President would say," he said, adding that vaccination does not make people immune from COVID-19, but it only boosts their immunity, so if they are infected, the recovery process will be quicker and it will not cause fatal impacts.
"We can still be infected and we can still transmit (the virus) to other people despite being vaccinated, so it is important to remain observing health protocols although we have been vaccinated," Budi said.
On that occasion, Budi revealed that President Joko "Jokowi" Widodo has made a high-level conference call with the government of China so this month the Indonesian government will obtain additional vaccines from Sinovac, a Chinese COVID-19 vaccine manufacturer.
In the meantime, Minister of Foreign Affairs Retno Marsudi, he added, has also renegotiated with Global Alliance for Vaccine and Immunization (GAVI), thus, more AstraZeneca-manufactured vaccines will arrive later tonight, Monday (26/04).
"Tonight, 3.8 million vaccines from AstraZeneca in GAVI scheme will arrive and next month 3.8 million (vaccines) will arrive twice," Budi said, adding that based on a discussion between President Jokowi and Chinese Prime Minister Xi Jinping, between 10 million and 15 million doses of Sinovac-manufactured vaccines will be delivered in April and May.
"Therefore, I order all regional heads to inject vaccines again. Yesterday, we hit the brake a little because of inadequate supplies, but now there will be quite a lot of supplies in May. Let us restore the vaccination space as before, so hopefully before 17 August (2021), we can give a present for the Independence Day of the Republic of Indonesia. (If) there are quite many people who have been vaccinated, we can control the COVID-19 pandemic," he said.