Minister Airlangga: Industrial Area Development and Vocational Education is the Realization of Justice Economy
By : Ridwan And Aldi Firhand. A | Thursday, August 17 2017 - 18:29 IWST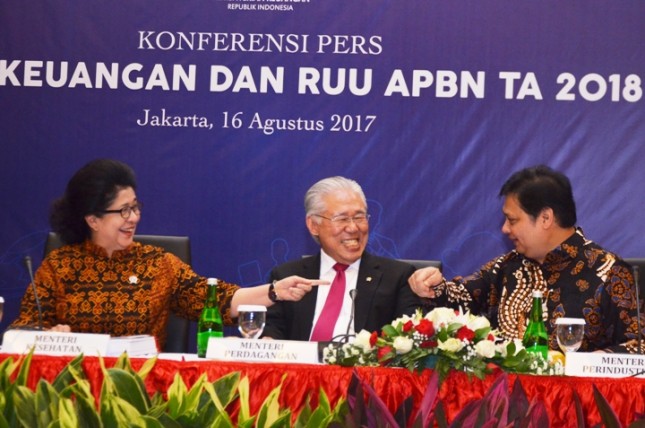 Minister of Industry, Airlangga Hartarto, together with Health Minister Nila Moeloek and Trade Minister Enggartiasto Lukita before the Press Conference of Financial Note and RUU APBN 2018 in Jakarta, August 16, 2017.
INDUSTRY.co.id - Jakarta, Minister of Industry, Airlangga Hartarto, said the government is moving faster and focusing on a fair economic equity policy for all Indonesians. Steps that have been done and run well, among others, is the development of industrial zoning and increasing the competence of human resources (HR).
"According to President Joko Widodo, the year 2017 is a joint working year for equitable economic equity," said Airlangga Hartarto after the press conference of Financial Note and Bill of State Budget 2018 in Jakarta, Wednesday night (16/08/2017).
Related to the absorption of the state budget, Airlangga added that the Ministry of Industry has facilitated the development of industrial estates outside Java. These efforts also encourage the spread of evenly distributed industries as well as realize Indonesia centric. "As of May 2017, as many as five industrial estates outside Java have been built and operated," he said.
The five industrial areas are Sei Mangkei Industrial Estate in North Sumatera based on palm oil processing industry, Morowali Industrial Area in Central Sulawesi based on nickel processing industry, Bantaeng Industrial Area in Southeast Sulawesi based on nickel metal processing industry, Palu Industrial Estate in Central Sulawesi Based on rattan and agro industries, as well as Regions
Konawe industry in Southeast Sulawesi based nickel metal processing industry.
"In fact, we have made a breakthrough by supporting the polytechnic development of the metal industry which will provide the necessary manpower in the industrial area of ​​Morowali and surrounding areas as well as the development of the community academy in Bantaeng Industrial Estate," said Airlangga.
In 2018, the Ministry of Industry will facilitate the construction of the 4th stage Morowali Polytechnic building, the Bantaeng community academy development stage 2, as well as the development of polytechnics supporting Dumai industrial area and the first stage of Batu Licin industrial area. "We also target, the development of small and medium industrial centers (SIKIM) outside Java as much as six centers," he said.
Meanwhile, beyond the use of government budget, the Ministry of Industry continues to encourage the continued development of Kendal Industrial Estate in Central Java which became the center of light industry (light industry). "The industrial estate inaugurated by President Joko Widodo and Singapore Prime Minister Lee Hsien Loong is in short time there have been 40 industries coming in. This shows that there is still a lot of investor interest in investing in Indonesia," said Airlangga.
Furthermore, the Ministry of Industry is facilitating the construction of a special industrial area of ​​Chinese investors in Karawang, West Java with an area of ​​200 hectares. The development of this area is a follow-up to a meeting at the G20 seminar in Shanghai, China. "There is already an investment in the automotive industry and spare parts," said Airlangga.
In an effort to prepare qualified, skilled and ready to compete, Kemenperin initiated through industrial vocational education program with SMK level and diploma and industrial training with 3in1 system (training, competency certification, and work placement). This program also encourages the improvement of competitiveness and productivity of national industry.
"The programs work in collaboration with industry, and by June 2017, 9,948 people have been deployed to the company, and through the development of industrial HR competencies, it is targeted to reach 1 million certified industry workers by 2019," said Minister of Industry