Health Minister Urges Regions to Speed Up COVID-19 Vaccination
By : Nata Kesuma | Tuesday, May 11 2021 - 17:05 IWST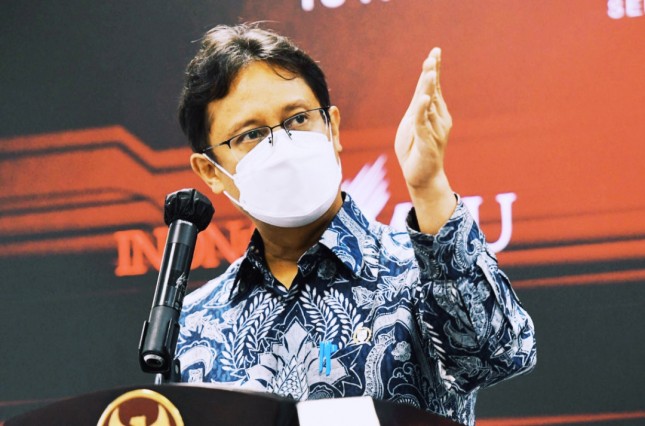 Minister of Health Budi Gunadi Sadikin delivering press statement after a limited meeting, Monday (10/05/2021) in Jakarta (Photo: PR of Cabinet Secretary/Rahmat)
INDUSTRY.co.id - In a bid to achieve herd immunity, the Government continues to accelerate COVID-19 vaccination with increased vaccine supplies and a private vaccination scheme called Gotong Royong.
As of 9 May, vaccination has reached 22 million doses injected with a capacity of 500,000 per day, according to Minister of Health Budi Gunadi Sadikin.
"We have surpassed 10 million (doses) since 13 January on 26 March, 20 million on 30 April. So, in a month there is an increase of 10 million. In total, we have reached 22 million (doses)," he told the press after attending a limited meeting on COVID-19 pandemic management led by President Joko "Jokowi" Widodo, Monday (10/05) in Jakarta.
The Minister went on to say there will be more vaccine supplies in May for vaccination programs in the country after a drop in supplies that led to a slower vaccination rate.
"Thank God, with the assistance of many ministries, (Coordinating Minister) Airlangga, and the President, our supplies will increase again this May," he said, while urging regional governments to accelerate vaccination rate.
"I appeal to all apparatus in the regions to ramp up (vaccinations) again as the vaccine supplies are already sufficient. In May after Eid, we have to immediately ramp up vaccinations to increase (the rate). If possible, we should reach one million (doses) per month in June," he said.
The Minister also expressed appreciation for regions with a high rate of vaccination, especially vaccination for senior citizens.
"I would like to thank the governments of Bali province, Special Capital Region of Jakarta, and Yogyakarta province that have inoculated a high number of senior citizens so they are gradually allowing vaccination for other groups of the general public," he remarked, adding that his Ministry will provide additional vaccine supplies for the three provinces.
"We will provide additional vaccines so they can quickly finish it as senior citizens are critical. I hope it can serve as a motivation for other provinces to immediately vaccinate all senior citizens because the faster it is done, the faster we open vaccinations for the general public," he said.
Besides government-run vaccinations, Gotong Royong private vaccination scheme will also be carried out to achieve herd immunity, he added. In the meantime, Coordinating Minister for Economic Affairs Airlangga Hartarto, who also helms the COVID-19 Handling and National Economic Recovery Committee, stated that vaccines manufactured by Sinopharm and CanSino have been set aside for this scheme.
"Five hundred thousand (doses) of 7.5 million (doses of) vaccine from Sinopharm are available. Another vaccine that will be used is CanSino and five million (doses of vaccine) have been set aside," he said, adding that the cost for this vaccination scheme is Rp500,000; Rp375,000 for a vaccine dose and Rp125,000 for distribution and injection fees.
"(The vaccines) have obtained certificates from the Food and Drug Monitoring Agency and the Indonesian Ulema Council. Gotong Royong vaccination is certainly expected to be carried out at the end of this May," he remarked.