COVID-19 Task Force Urges Travelers Returning Home to Undergo Self-quarantine
By : Nata Kesuma | Wednesday, May 19 2021 - 15:45 IWST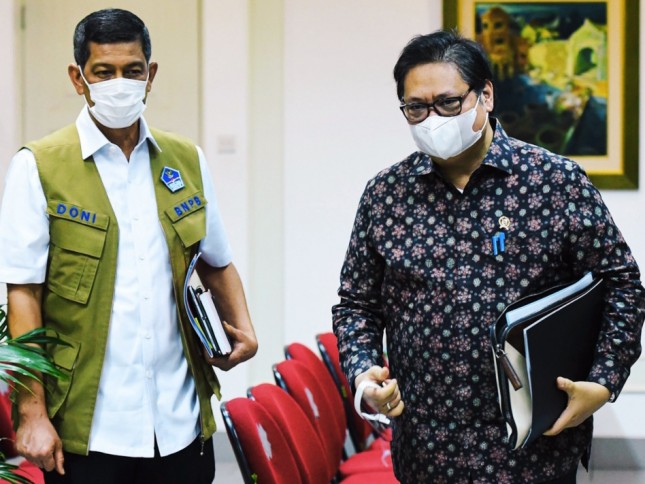 Chairperson of COVID-19 Handling and National Economic Recovery Committee Airlangga Hartarto (center) and Chairperson of COVID-19 National Working Committee Doni Monardo (left), in Jakarta (3/5). (Photo by: PR/ Agung)
INDUSTRY.co.id - In an attempt to reduce the potential spike in COVID-19 cases after long holiday, Chairperson of the COVID-19 Handling Task Force Doni Monardo has urged the public traveling during this year's Eid holiday to undergo self-quarantine.
According to him, COVID-19 checkpoints that have been regulated in the provisions of the Enforcement of Micro-Scale Restrictions on Community Activity (PPKM Mikro) played a significant role in implementing this self-quarantine policy.
"Do self-isolate in respective areas. The checkpoints in villages and sub-districts are expected to effectively operate for the next 1-2 weeks to supervise those returning home from traveling," he said in a press statement after attending a Limited Cabinet Meeting on COVID-19 Pandemic Handling chaired by President Joko "Jokowi" Widodo, in Jakarta, Monday (17/5).
Doni revealed that President Jokowi offered his appreciation for the role of COVID-19 checkpoints both at village and sub-district levels to urge and monitor people traveling to carry out self-quarantine.
"We appeal all leaders and all communities to remind those returning from red and orange zones to self-isolate at their residences," he said.
Doni further said that based on the experience of the previous year, the increase in active cases rate after a long holiday stood at 78-119 percent, while the increase in mortality rate stood at 46-75 percent.
To that end, the Government has taken several anticipatory measures to reduce the spike in COVID-19 cases that often occurred after long holiday.
"The President, Vice President, Coordinating Ministers, and Ministers have worked hard in the last few weeks to ensure there is no spike in confirmed cases as it happened in previous times. We all have acquired our lessons and experiences from what happened in the previous period," he added.
On that occasion, Doni also expressed his appreciation for the hard work of the COVID-19 Task Force in the regions, both provinces and regencies/cities that have initiated to close entertainment venues or tourist attractions that are not in accordance with the Central Government Regulation regarding maximum visitor capacity of 50 percent.
"We also hope that the policy will continue so that we can make maximum efforts to prevent further transmission," Doni stated.
Doni explained that the conditions for COVID-19 transmission in the country are relatively under control. This is reflected in the bed occupancy rate for the isolation room and the intensive care unit (ICU) in hospitals.
"The barometer was COVID-19 Emergency Hospital in Kemayoran Athletes Village, where the current bed occupancy rate reached 16.22 percent. This is the lowest record for patients treated at the Athletes Village. We hope we can maintain this," he said.
However, Doni also reminded the public that there was an increasing trend of COVID-19 cases that occurred in Sumatra Island over the past month as red and orange zones in the region have increased.
Therefore, Doni expressed hope that the collective awareness of all components of society to control themselves and comply with the appeals from both central and regional governments as well as community figures.
"We will be able to feel relief if the condition of COVID-19 in the country is still under control by mid-June. Let us pray that the active cases in our country will not increase. Once again, the cooperation of all components of the nation is expected to provide a sense of calm and comfort for all of us," he said.