Gov't to Focus on 2022 Hajj Following This Year's Cancellation
By : Nata Kesuma | Tuesday, June 15 2021 - 16:30 IWST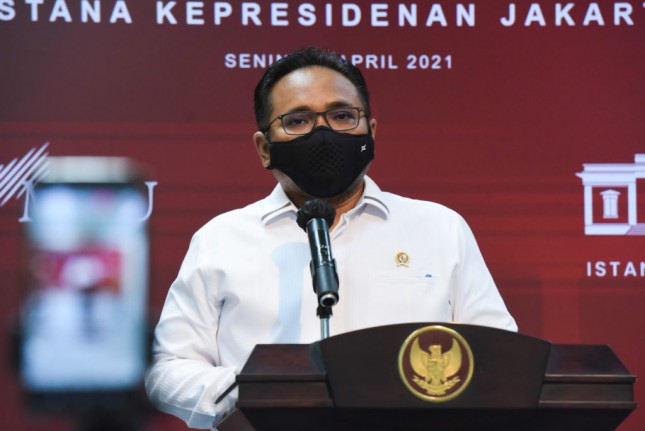 Minister of Religious Affairs Yaqut Cholil Qoumas (Photo: PR of Cabinet Secretariat)
INDUSTRY.co.id - The Government has announced it will focus on the preparation of the 2022 hajj pilgrimage (annual Muslim pilgrimage to Mecca) following the decision to cancel this year's hajj pilgrimage due to health and safety concerns amid the pandemic.
"We will now focus on 1443 Hijri (Islamic year) hajj preparation. The Indonesian Government will continue to actively communicate with the Saudi Arabian Government to prepare hajj pilgrimage if (the country) allows hajj in 2022," Minister of Religious Affairs Yaqut Cholil Qoumas told the press, Saturday (12/06) in Jakarta.
For the record, the Government of the Kingdom of Saudi Arabia has also announced that 1443 Hijri / 2021 hajj is open only for Saudi Arabian citizens and foreigners / expatriates who currently reside in the Middle Eastern country.
"The Government of Saudi has announced that hajj this year is open only for its citizens and expatriates, due to the consideration of the safety and security of hajj pilgrims from the existing threat of COVID-19. As the Indonesian Government has said, health and safety of pilgrims are always our primary concerns," Yaqut said.
"The determined (hajj) quota is 60,000, which is much more than last year's," he added, while expressing appreciation for the Kingdom of Saudi Arabia that has finally announced an official decision on 2021 hajj, which serves as a clear guideline on 2021 hajj pilgrimage for Muslims around the world.
"This decision shows that Saudi puts safety and health of hajj pilgrims above everything. With this restriction, health protocols can be well observed and massive virus transmission can be anticipated," Yaqut said.
The Minister also expressed hope that this decision will end debates or hoaxes that have been circulating following the announcement of Indonesian hajj pilgrims' departure cancellation on June 3rd.
"Saudi Arabia's decision has the same spirit as Indonesia's that wants to protect the pilgrims' health. I hope the public continues to uphold discipline to observe health protocols so that COVID-19 can be controlled and we are ready when hajj is carried out again next year," he said.
On that occasion, Yaqut also urged the public to pray so that the pandemic will be over and hajj pilgrimage can be carried out better next year.
"Let us all pray that the pandemic will be over soon (and) hajj pilgrimage can be performed normally and peacefully next year. May God be with us," he remarked.