Gov't Committed to Eliminating Child Labor: Minister
By : Nata Kesuma | Tuesday, June 15 2021 - 17:50 IWST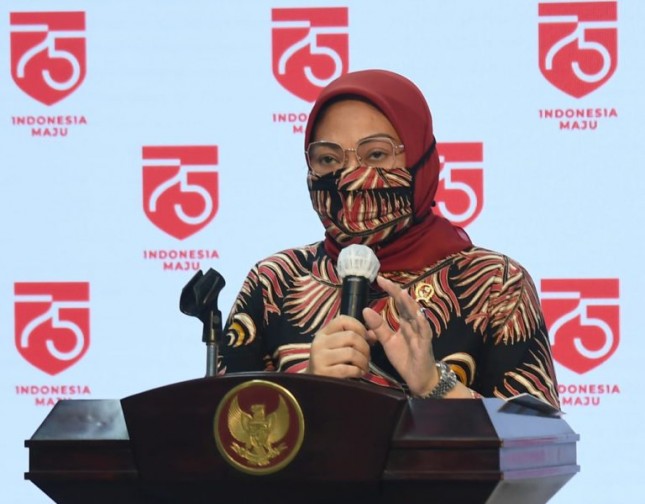 Minister of Manpower Ida Fauziyah delivered a statement in the Presidential Office, Monday, (10/8). Photo by: BPMI
INDUSTRY.co.id - Minister of Manpower Ida Fauziyah has reaffirmed the Government's commitment to eliminatie child labor. The Minister delivered the statement in her keynote speech at "End Child Labor: Virtual Race 2021" event organized by the International Labor Organization in commemoration of the 2021 World Day Against Child Labor, Saturday (12/06).
According to Ida, the Government has rescued child labor from the worst types of work since 2008. From 2008 to 2020, there were 143,456 child workers who had been rescued, out of 1.5 million child workers aged 10-17 years based on data from the National Socio-Economic Survey conducted by the Statistics Indonesia in 2019.
In line with the commitment to eliminating child labor, the Government, she said, has also ratified the ILO Convention Number 138 on the minimum age for workers. The ratification is stipulated in Law Number 20 of 1999.
The Government also includes the technical provisions stipulated in the ILO Convention in Law Number 13 of 2003 on Manpower.
"Ministry of Manpower is committed to making concrete efforts to reduce child labor in Indonesia," Ida said.
The Minister also explained a number of measures to be carried out in 2021. They are as follows: First, increasing public awareness, especially in rural areas and vulnerable groups, focusing on the fulfillment of children's rights and not involving children in hazardous work.
Second, providing coordination measures and assistance to provide education for children. Third, providing training for child workers from vulnerable groups in community-based training programs and apprenticeships.
Fourth, providing social assistance or social protection for groups of workers and poor families affected by COVID-19. Fifth, conducting supervision/inspection of companies suspected of employing children.
Sixth, disseminating information on child labor norms to stakeholders. Seventh, establishing child labor-free zones in provinces of North Sumatra, South Sumatra, East Kalimantan, and West Kalimantan.
The Minister further said that a number of children in Indonesia, especially from law-income families, have not yet fully obtained their rights.
On that occasion, Ida also expressed her appreciation to all stakeholders who have participated in taking measures to eliminate child labor.