ASEAN-Russia Meeting: Indonesia Pushes for Vaccine Production Partnership
By : Nata Kesuma | Thursday, July 08 2021 - 17:45 IWST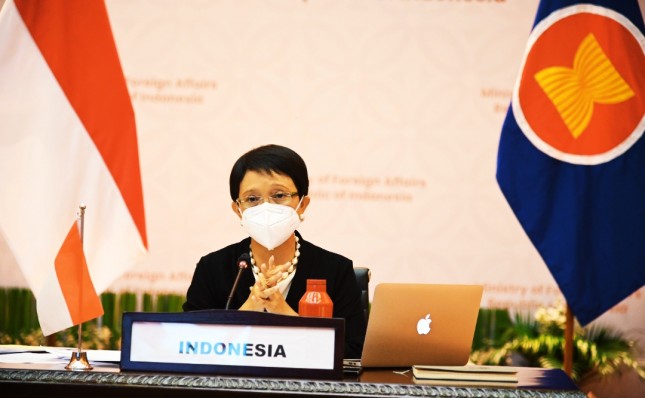 Minister of Foreign Affairs Retno L. P. Marsudi led the Special ASEAN-Russia Foreign Ministers' Meeting online, Tuesday (06/07/2021). (Photo: PR of Ministry of Foreign Affairs)
INDUSTRY.co.id - Indonesian Foreign Minister Retno L. P. Marsudi and her Russian counterpart Sergey Lavrov Tuesday (06/07) co-led the Special ASEAN-Russia Foreign Ministers' Meeting held online.
Strategic partnership between ASEAN and Russia that entered its 25th anniversary this year was also discussed.
During the meeting, Indonesia also pushed for strengthened partnership in the health care sector, especially pandemic management and economic recovery.
"Spikes in COVID-19 cases, emergence of many new variants, and global vaccination disparity are reminders that ASEAN and Russia must cooperate better in tackling the pandemic. On the other hand, measures to maintain peace and stability in the region should also remain the main concern," Retno said.
In terms of partnership in pandemic management, Indonesia, Retno said, also encouraged Russia to support vaccine demand fulfilment in the region through doses-sharing, to prioritize ASEAN countries as Russian vaccine recipients, and to explore the possibility of a joint production with ASEAN member countries.
Indonesia also asked ASEAN and Russia to strengthen their support for COVAX Facility, TRIPS Waiver negotiation, and vaccine equality, she added.
On that occasion, the Minister also underscored the importance of regional health security, adding that collaboration with Russia is expected to improve the independence of the region's research, health care and pharmacy industry, as well as to reinforce regional early prevention system.
"ASEAN-Russia are also responsible to strengthen WHO and global health order to anticipate pandemic emergence in the future," she said.
As for regional architecture, Retno stated that Russia's vision about regional architecture shares similar principles with ASEAN Outlook on the Indo Pacific (AOIP), which has become more relevant in the pandemic.
"It is time for us to put partnership before rivalry, collaboration before competition," she said, stressing on the importance of partnership and collaboration of both parties.
During the meeting, Indonesia also asked Russia to support ASEAN centrality and take measure to resolve the situation in Myanmar, including to implement the Five-Point Consensus.
Meanwhile, in response to Russia's proposal to hold ASEAN-Russia High-Level Conference in October 2021, Retno said that Indonesia considered that the high-level conference must become the momentum to strengthen partnership between ASEAN and Russia in overcoming many challenges and to also increase Russian contribution in the region.
For the record, the ASEAN-Russian Ministerial Meeting that was held to push for Russia's commitment and active roles in the Southeast Asian region has produced Co-Chairs Summary, which contains agreement to speed up post-pandemic recovery, including by minimizing socioeconomic impacts, restoring macroeconomic and financial stability, securing supply chain and connectivity, and strengthening environmental security.
It was also agreed during the meeting that the ASEAN-Russia High-Level Conference will be held in October 2021.
Other partnership agreements in various fields were also made, including maritime security, communication and information technology security, disaster management, and terrorism and cross-border crime countermeasures.
Russia has become ASEAN's strategic partner since 1996 and within 25 year the country has developed close relationship and cooperation in many fields, including politics and security, economy, social affairs, and culture.
Indonesia acts as the coordinating country for ASEAN-Russia partnership for the 2018-2021 period.