Citi and CGS-CIMB recommend to "Buy and Hold" GOTO Stock
By : Abraham Sihombing | Wednesday, July 27 2022 - 07:48 IWST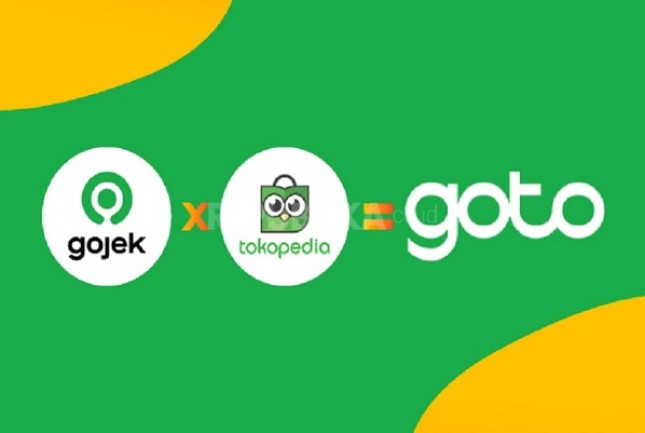 GoTo is a blend of Gojek and Tokopedia. (Photo: republika.co.id)
INDUSTRY.co.id - Jakarta - Citi and CGS-CIMB initiate on PT GoTo Gojek Tokopedia Tbk (GOTO) shares with a Buy and Hold with target price (TP) of Rp 430 per share and Rp 396 per share, respectively. These recommendations and target price take into account GoTo's strong fundamental as Indonesia's leading technology ecosystem with a high volume of daily use cases and potential synergies to be unlocked, which may hint at a potentially faster path to profitability.
CGS-CIMB Sekuritas research assesses that GoTo management is increasingly focused and consistent in achieving profits. All opportunities for making a profit are constantly soptimized. "The global macroeconomic downturn led by rising inflation and interest rates has encouraged some tech companies to change their tones and shifted their focus more towards driving profitability. GOTO is not unique because the management has hinted at a potentially faster path to profitability,"said the research composed by a team of analysts that are consisted of Ryan Winipta, Baruna Arkasatyo, and Hadi Segiarto.
According to the CGS-CIMB research, as a leading and integrated technology ecosystem company in Indonesia, witha high daily usage, GoTo has greater growth potential. Currently, GOTO's fundamental strength is supported by three business pillars, namely on-demand (Gojek), e-Commerce (Tokopedia), and financial technology (GoTo Financial). The synergy of the three and the deep collaboration with PT Bank Jago Tbk has become an additional value for the company.
In the report, the CGS-CIMB research team has explored each pillar of the business through analyzing each of the sub-businesses as well as case studies in other markets with a more mature technological landscape. "In our view, GOTO can benefit from the cross-platform synergy with Gojek as the initiator. Our discussion with the management has signaled that the net revenue may outpace gross revenue growth in the secondhalf of 2022," the CGS-CIMB Sekuritas team explained.
This positive factor prompted CGS-CIMB to provide a HOLD recommendation for GOTO shares with a TP of Rp396 per share. This research also positively assesses one of GOTO's strategies, namely cross-pollination, that is a synergy between platforms in the ecosystem.
"We believe the investors can shift their focus to the acceleration of GOTO towards profitability and the implementation of new initiatives, namely hyper local experience, BNPL, e-wallet integration for Tokopedia, and others," the CGS-CIMB Sekuritas team added.
Separately, Citi Research of PT Citigroup Sekuritas Indonesia (CSI) even pinned a higher Target Price/TP for GOTO shares, which is Rp430 per share. This research recommends 'Buy' or 'Hold' for GOTO shares.
"We recommend Buy/Hold and TP Rp430 per share with the belief that GoTo should trade at a premium price compared to similar companies in the region, because its dominance in Indonesia," said the Citi research compiled by Ferry Wong CFA, Ryan Davis, Justian Rama, Alicia Yap CFA, and Nelson Cheung.
While preparing its recommendations, Citi provided the context that Indonesia is the largest market in ASEAN. Meanwhile, GoTo is a super-apps with comprehensive services to consumers. starting from on demand services (Gojek), e-commerce (Tokopedia) and financial technology (GoTo Financial). "Its robust ecosystem and integrations are key catalysts for more optimal asset monetization," the Citi Sekuritas' analyst team clarified in a research report.
In addition to synergy and ecosystem integration, social change factors also affect GOTO's ability to achieve profit and sustainable growth, such as rapid urbanization, a constantly expanding population, an increase in lifestyle, and an increasing middle class. "It all improves the GoTo prospects in the medium to long term," said the Citi Sekuritas' analyst team.
In addition to Gojek on on-demand services and Tokopedia in e-Commerce, this research also sees the great potential for Financial GoTo business growth, especially thanks to GoPay and the synergy with Bank Jago. "The increasingly positive margin contribution, we believe, will begin in early 2024 and will accelerate GoTo's path to profitability in the next few quarters," the Citi Sekuritas' analyst team explained.
Citi also likes GoTo because of its local focus. This protects GOTO from the risk of foreign government intervention as other application companies often face in many countries. The fact, the strong collaborative ecosystem of Tokopedia, Bank Jago, and Gojek is quite deeply rooted in Indonesian households.
"The relatively low take rates for GoTo e-commerce and GoTo Financial, in our view, have positive potential and will generate higher revenue and profitability. We're slightly ahead of consensus in assessing GTV (Gross Transaction Value) growth and revenue forecasts," the Citi Sekuritas' analyst team assured.
Citi Sekuritas expects the GTV of GoTo to grow by 42 percent in 2022 to Rp655 trillion, by 49 percent in 2023 to Rp974 trillion, and by 43 percent in 2024 to Rp1,389 trillion. The GoTo's net revenue is expected to soar by 51 percent in 2022 to Rp23 trillion, by 46 percent in 2023 to Rp34 trillion, and by 41 percent in 2024 to Rp47 trillion. (*)