Government Asked to Watch Imported Salt Distribution
By : Herry Barus And Aldi Firhand. A | Saturday, April 14 2018 - 21:43 IWST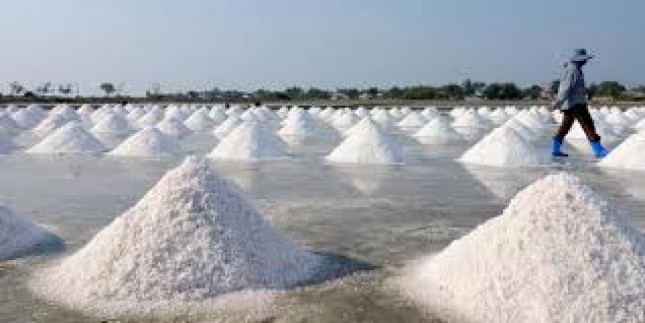 Salt Pond illustration
INDUSTRY.co.id - Pati - The government is asked to closely monitor the distribution of imported salt in order to avoid misuse for consumption salt because it could harm local farmers, said Prosperous Justice Party President Mohamad Sohibul Iman.
"Information from salt collectors in Pecangaan Village, Batangan Sub-district, Pati District, the decrease of local salt price at market level is one of the allegedly due to the circulation of imported salt," he said on the sidelines of a visit to one of salt ponds in Pecangaan Village on Friday 4/13/2018)
Based on the information received, he said, imported salt that should be used for the benefit of industry, was circulated also in the market into salt consumption.
As a result, he continued, salt farmers who already buy salt farmers with high prices, now do not dare sell it to the market because the price of imported salt is much cheaper.
Due to such abuse, he continued, disrupting the price stability of salt consumption from local salt farmers.
"Local farmers also can not enjoy the benefits as expected," he said.
According to him, it is still open the salt import faucet because national salt demand has not been able to be fulfilled by local farmers.
In fact, he said, the ownership of salt ponds is now clearly lacking because it has only been fulfilled about 60 percent of the total national land needs.
"The land ownership of every farmer has not been at a profitable level of economic scale," he said.
While the level of productivity, he added, still needs to be improved because there are still many who apply conventional technology and not many who use geomembrane technology.
One of the salt collectors in Pecangaan Village, Sukirno admitted that the opening of salt import taps did disturb the local salt price stability.
The information, he said, the price of imported salt is only Rp1,500 per kilogram, while the price of salt owned is obtained from local farmers of Rp1.600 / kg.
The selling price, he said, has not considered the cost of packaging and transportation and depreciation.
"I just can get profit when sold in the market ranges Rp2.500 / kg, while the selling price of Rp2,200 / kg does not include packaging costs," he said. (Ant)