Mister Potato Presents a Variant of Balado Flavor and Honey Cheese
By : Anisa Triyuli And Aldi Firhand A | Wednesday, May 16 2018 - 22:10 IWST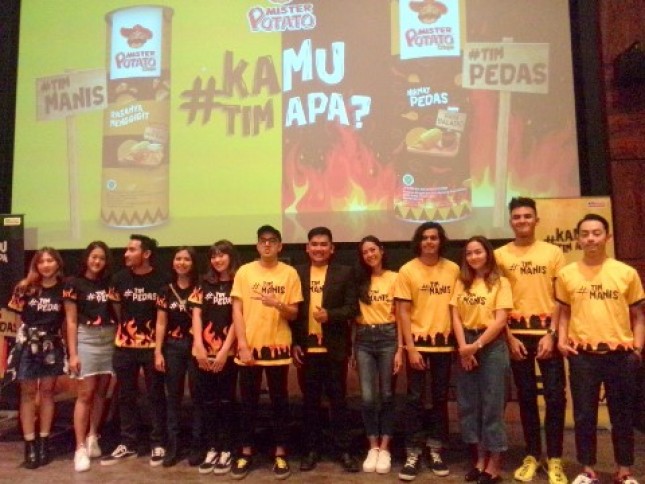 Mister Potato PT. Pacific Food Indonesia. (Anisa's Photos)
INDUSTRY.co.id - Jakarta - Lifting the taste of Indonesia that is popular with the public. Mister potato presents the latest flavor variants, honey cheese and balado. This is a mainstay taste for the brand of potato chips production PT. Pacific Food Indonesia.
Before this new flavor variant, Mister Potato also presents the original flavor variant of Indonesia and liked by young people. Namely issued a variant of purple sweet potato flavor.
"We are bringing local taste innovations that are popular with Indonesian people reflecting the local spirit and carrying the main communication of Mister Potato brand this year is" Pride of Indonesia "," said Marketing Manager of Smax & Mister Potato, Mamee Indonesia, PT Pacific Food Indonesia, Leovhaty Augusta at the launching of Mister Potato taste of balado, honey and cheese at Quens Head ,, Jakarta, Tuesday (15/5).
According to Leovhaty, the taste of balado is lifted because the majority of Indonesian people love spicy food. Sambal balado itself is one of the favorite types of sambal often made. While honey cheese is intended for adolescents and adults who like a modern flavor. In addition, the sweet enthusiasts with the original content of cheese and honey.
"Balado is very local Indonesia once we want indeed there are representatives from modern, very modern team that is honey cheese," she said.
In promoting these two new flavors, Mister Potato teamed up with actor and comic Kemal Palevi representing a sweet team for the taste of honey cheese and Wendy Walters representing a spicy team for balado.
"Actually, in our launching event, in 2018, Mister Potato has the main communication of pride of Indonesia, so this year is really the future communication we will all be in touch with Indonesia.Why this year we want to raise the nationalism of children young in Indonesia, "she added.
For the future, said Leovathy, Mister Potato is currently preparing and will bring other flavors that of course still with the taste of Indonesia.