Dam Construction Increases Water Availability as a Key to Food Security
By : Hariyanto And Aldi Firhand. A | Sunday, August 05 2018 - 16:50 IWST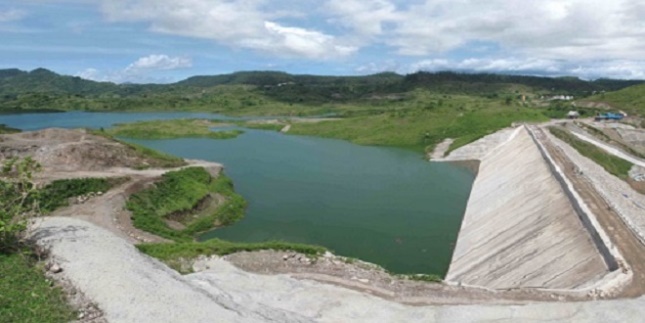 Illustration of Dam / Reservoir (Foto Ist)
INDUSTRY.co.id - Jakarta - The Ministry of Public Works and Public Housing (PUPR) in the 2015-2019 period, targets the construction of 65 dams consisting of the construction of 16 advanced dams and 49 new dams.
In addition, the construction of a new irrigation network covering an area of ​​1 million hectares was also programmed and rehabilitated 3 million hectares of damaged irrigation.
The construction of dams in various regions in Indonesia is to support Nawa Cita President Joko Widodo and Vice President Jusuf Kalla to realize national food and water security.
"It will not be possible to become a sovereign nation in the food sector if the number of dams and irrigation channels that irrigate our agricultural lands throughout the country is very limited," Indonesian President Joko Widodo said in an official video entitled 2 seasons, 65 dams.
PUPR Minister Basuki Hadimuljono said, dam construction will increase water supply for agricultural land more evenly and continuously. With the supply of water from the dam, farmers who previously only planted once a year, will be able to increase to 2-3 times
"Currently from 7.3 million hectares of irrigated land, only about 11% are getting water supply from dams. Later after 65 dams are completed, the irrigation area that will be supplied by the dam will increase to 19-20%," Minister Basuki said. last time.
Furthermore, Minister Basuki said the dam construction program was followed by a premium irrigation program, namely irrigation which received water from the dam. Thus, dams that are built at high cost, are certainly able to drain water to farmers' fields.
In 2018, it is targeted that the nine dams whose construction starts in 2015 will be completed. The dam is the Rotiklot Dam in NTT, Tanju Dam, Mila, Bintang Bano in NTB, Gondang and Logung Dam in Central Java, Sei Gong Dam in Batam, Sindang Heula Dam in Banten, and Paselloreng Dam in South Sulawesi.
The total capacity of the nine dams reaches 288 million m3. The average progress of the eight dams is 80-90 percent. For the Rotiklot and Tanju Dam it's finished and is entering the impounding stage. The Raknamo Dam in NTT and Tanju in NTB have been inaugurated.
"In the past before there was a dam, one year only planted rice once, because of drought. As a result, farmers have no income to eat. Now, there are dams and irrigation, it can be planted twice a year," said M. Solihin (31 years) one of the farmers.
Increased land productivity, where one hectare of land can reach approximately 6-7 tons. "I really hope the government builds a lot of reservoirs, so that farmers in remote areas can not feel the same as me," said Solihin.