Immediately Operate, Cikarang Dry Port Toll Tariff Starts Rp. 4,500
By : Herry Barus And Aldi Firhand. A | Thursday, August 23 2018 - 22:33 IWST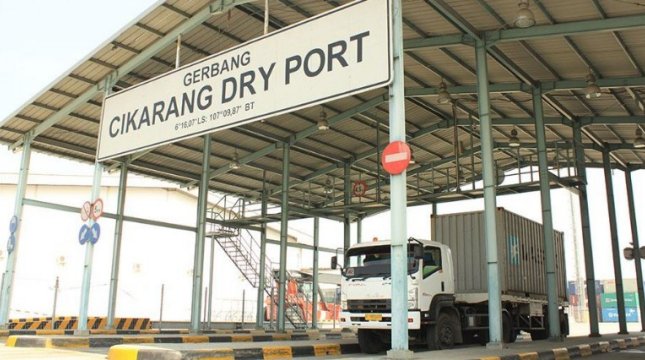 Cikarang Dry Port.
INDUSTRY.co.id - Jakarta - Starting August 28, 2018, the official Cikarang Dry Port tariff is applied. This is in accordance with the Decree of the Minister of Public Works and Public Housing (PUPR) of the Ministry of Public Works Ministerial Decree Number 561 / KPTS / M / 2018 concerning the Determination of Types of Motorized Vehicles and Toll Tariffs at the Cikarang Dry Port Access Road as Part of the Jakarta - Cikampek Toll Road.
"Exactly at 00.00 WIB, the tariff for access to the Cikarang Dry Port, we started to apply according to the Decree of the Minister of Public Works and Public Housing (PUPR)," said Public Relations of Jasa Marga, Dwimawan Heru through his official statement on Thursday (8/23).
He explained, in accordance with the regulation, a number of classes of motorized vehicles that are subject to cross-tariffs on the Jakarta-Cikampek Toll Road are sedan type I vehicles, jeeps, pick-ups / small trucks and buses.
Furthermore, the class II type of truck with two axles, class III type of truck with three axles, class IV trucks with four axles and class V trucks with five axles.
The toll road user who goes to Cikarang dry port will make a payment at the North Cikarang Toll Gate with a tariff according to the provisions. "Each group is group I Rp 4,500, group II and III Rp. 6500 and class IV and V Rp. 9,000 per unit," he said.
One of the points in the Decree also states, PT Jasa Marga (Persero) Tbk as the manager of the Jakarta-Cikampek Toll Road, has the right to refuse entry or issue toll road users who do not meet the heaviest axle load limit provisions at the Toll Gate (GT) nearest the toll road.
"The implementation of regulations and control of supervision of the heaviest axis load limits is cooperated with the Ministry of Transportation in accordance with the provisions of the legislation.
The Dry Port Cikarang access road is 3.06 kilometers long which is an extension of the gate of the Tanjung Priok International Port. This access road will reduce the excess capacity of Tanjung Priok Port and unravel the queue of trucks on the Jakarta-Cikampek Toll Road