Minister Rini Ensures Holtekamp Bridge Operates End of Year
By : Herry Barus And Aldi Firhand. A | Friday, August 24 2018 - 20:01 IWST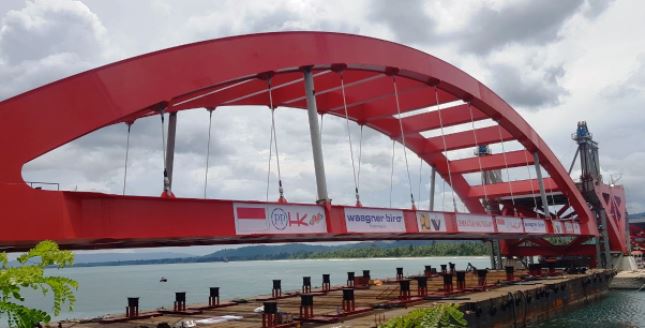 PT PP (Persero) Tbk, one of the construction and investment companies is currently working on the Holtekamp Bridge project, Jayapura.
INDUSTRY.co.id - Jayapura - BUMN Minister Rini Soemarno stated that it is expected that in December 2018, the Holtekamp Bridge in Papua can already operate so as to improve connectivity in the region.
"I hope that this December can be utilized by the community," said BUMN Minister Rini Soemarno when reviewing the construction of the Holtekamp in Jayapura, Papua, Friday (08/24/2018)
According to Rini, the Indonesian people should be proud of the construction of the Holtekamp Bridge which is a curved bridge created by the nation's own children.
The Minister of BUMN stated, we all must be proud of being an Indonesian nation because it is able to make bridges with advanced technology and with a span of 732 meters, and made in Papua.
He also explained, this long curved bridge was the result of synergies from various SOEs, where the steel stretch was made at PT PAL Surabaya to later be withdrawn to Jayapura so that it could be completed by various other construction SOEs.
In the framework of the dispatch, it has also broken a number of records from the Indonesian Record Museum, namely the Whole Record of Delivery of the Middle Arched Steel Frame with Farthest Distance, as well as the record for the Appointment and Installation of Steel Frame Bridges in the Longest Whole Shape.
The Holtekamp Bridge Project itself is a collaboration between the central government and the local government, among others, as a solution to the problem of population density in the city of Jayapura.
With the construction of the Holtekamp Bridge, the plan will shorten the travel time from the city of Jayapura to the Muas Tami district and PLBN Skouw.
In addition, the Holtekamp Bridge also has benefits as a means of supporting the National Sports Week (PON) 2020 in Papua, as well as making it a new landmark or icon of Papua.
A number of work packages related to the project include the Main Stretched Bridge, the access side of the Holtekamp side and the Hamadi side, and the Approach Fortress Bridge.