RI-South Korea Signs 15 Business Memoranda of Understanding
By : Ridwan And Aldi Firhand. A | Wednesday, September 12 2018 - 20:38 IWST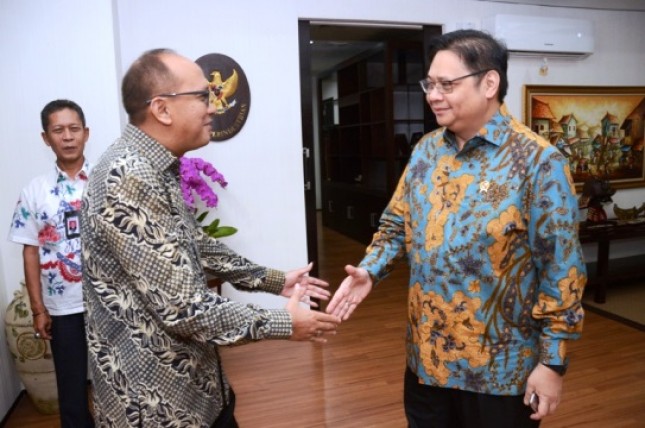 Chairman Kadin Indonesia Rosan P. Roeslani and Menperin Airlangga Hartarto (Foto Ist)
INDUSTRY.co.id - Jakarta - A total of 15 memoranda of understanding were signed by companies and institutions of the Government of Indonesia and South Korea at the 2018 Indonesia-Korea Business and Investment Forum.
The memorandum of understanding covers the sectors of energy, property, machinery, technology and cosmetics with a total investment commitment that is business to business (B-to-B) reaching 5.76 billion US dollars.
"We are very open to the investments that enter Indonesia," Indonesian Kadin Chairman Rosan P Roeslani said through his statement received in Jakarta on Wednesday (12/9/20180
Rosan said that there are still many potential trade and investment opportunities between the Republic of Indonesia and South Korea that need to be explored.
According to him, this time it was the largest group invited because it brought 104 entrepreneurs to the 2018 Indonesia-Korea Business and Investment Forum. "This is a sign of Indonesia's improved trade and investment relations with South Korea which is very good," added Rosan.
Agreements were made in the industrial sector, including Hyundai Engineering which partnered with PT Sulfindo Adiusaha for the development of a chemical platform that would produce vinyl chloride monomer products (VCM) and poly vinyl chloride (PVC) in Merak, Banten with an investment of 200 million dollars US. Then, the development of a diesel engine worth USD185 million was carried out by Doosan Infracore with PT Boma Bisma Indra (Persero) and PT Equiti Manajemen Teknologi.
Furthermore, SD Biotechnologies collaborates with PT Orion Pratama Sentosa to build a cosmetics industry in Karawang, West Java worth 20 million US dollars.
In addition, a strategic partnership in the field of development of machinery technology centers in Bandung, West Java is a collaboration of the Korea Institute for Advancement of Technology and the Ministry of Industry.
In addition to Rosan, also attended witnessing from the Indonesian delegation, namely the Minister of Industry Airlangga Hartarto, the Head of BKPM Thomas Lembong and the Head of Bekraf Triawan Munaf.
Meanwhile, Chairman of the South Korean Chamber of Commerce and Industry (KCCI) Park Yong-man hopes this forum can pave the way for South Korean companies to invest in innovative projects in Indonesia.
Moreover, there is already a clear direction in the future development of the industry through the Making Indonesia 4.0 road map.
According to him, there is a comprehensive plan for the development of high-tech industries, including digital technology, as well as bio and hardware automation. "As Korean companies are very interested and have the best experience in this field, we hope both parties can increase collaboration in the future," he explained.