Electrolux cooperates with Zero Waste Indonesia to launch Make It Last Campaign Sustainable Diet
By : Nata Kesuma | Tuesday, November 30 2021 - 22:10 IWST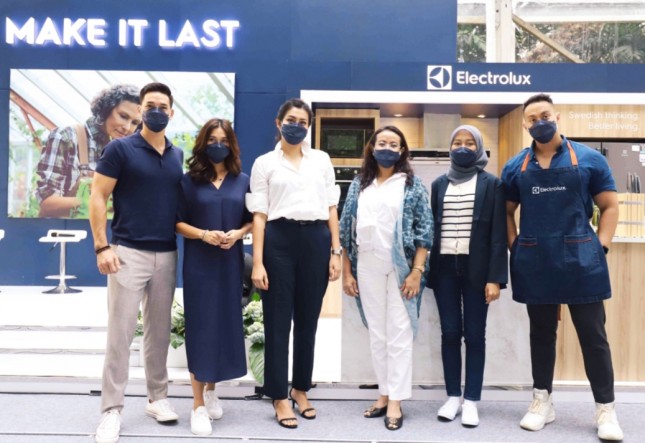 PT Electrolux Indonesia MAKE IT LAST campaign and UltimateTaste range of kitchen products.
INDUSTRY.co.id -Jakarta, Indonesia, November 30, 2021,- Electrolux continues to promote sustainable eating through the MAKE IT LAST campaign. The company launched the UltimateTaste range of kitchen products to inspire consumers about better eating habits by providing practical support and advice.
Currently 30 percent of global emissions come from the food industry, but a third or 1.3 billion tonnes of global food production is wasted every year1. In Indonesia, the generation of food loss and waste (FLW) from 2009 to 2019 reached 23-48 million tons/year or the equivalent of 115-184 kg/capita/year.
Through MAKE IT LAST (Taste) – the first of the three pillars of the MAKE IT LAST campaign – Electrolux promotes sustainable eating by helping consumers reduce food waste, adopt a plant-based diet, and minimize nutrient loss when cooking through best-in-class kitchen appliances. This campaign has been launched to the Asia Pacific, Middle East, and African countries, and finally officially launched in Indonesia at the end of 2021.
"As a global leader in our industry, Electrolux inspires and empowers consumers to live better and more sustainable lifestyles. We invite the Indonesian people to build a conscious, sustainable and healthy eating culture as the first choice," said Iffan Suryanto, President Director of Electrolux Indonesia.
Electrolux collaborates with Zero Waste Indonesia to inspire people to live a more sustainable lifestyle and diet and prevent food waste. Since October 2021, Electrolux has been raising awareness of sustainable eating on digital platforms and creating its #many-vegetable movement.
"There is a lot we can do to mitigate the climate impact, and eating more plant-based foods is one of the simplest ways. Switching to a plant-based diet can help reduce the impact on the environment in terms of carbon emissions, amount of oxygen, soil degradation, and water supply," said Fildzah Amalia, PR Manager of Zero Waste Indonesia.
The Ministry of Health recommends that the portion of vegetables is a third of a plate (equivalent to 150 grams or one medium bowl), and the portion of fruit is a third of a half plate (equivalent to 150 grams) at a time.
Meanwhile, Nana Mirdad and Andrew White, a celebrity couple with a healthy lifestyle said, "We try to live a healthier lifestyle because we want to stay healthy and fit in the midst of busyness, so we always add plant-based foods to our diet. It turns out that plant-based foods are not only good for our health, but also for the earth."
Chef Yuda Bustara said, "A plant-based diet is far from boring. Indonesia is rich in vegetables, fruit, and other plant food sources. We can be creative by trying new ingredients or exploring new recipes and cooking methods, of course with cooking utensils that can help serve a healthy menu."