Ministry of Industry Promote Indonesian Coffee Through Indonesia-Sarawak Coffee Festival
By : Aldi Firhand Alqudri | Sunday, July 30 2017 - 23:42 IWST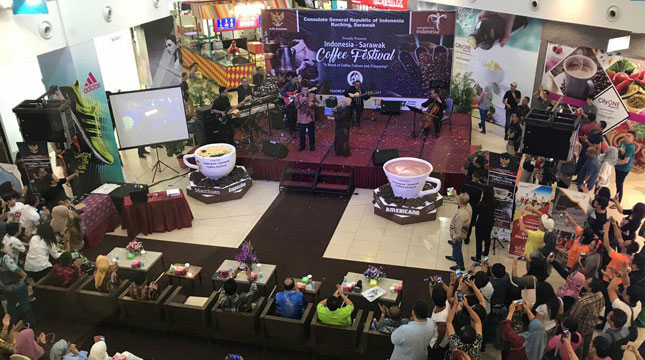 Indonesia-Sarawak Coffee Festival 2017
INDUSTRY.co.id - Sarawak - To promote culture, tradition, tourism and especially introduce coffee, Indonesia-Sarawak Coffee Festival held at Cityone Mega Mall Kuching, Sarawak, on 28-30 July 2017.
According to Deputy Minister of Tourism Marketing Kemenpar I Gde Pitana said Indonesia's potential is so rich with various types of coffee as one of the favorite drinking community all circles. In addition to having many health benefits, coffee has also become a separate lifestyle for people in different parts of the world in different ways and cultures. '
With the theme "A Blend of Coffee, Culture, and Friendship" it brings coffee from Indonesia are exhibited in one location. The best Indonesian coffee producers hold booths ready to pamper the visitors with their best coffees. Visitors can even taste the coffee they want and buy it at a special price during the festival.
"Currently, coffee from Indonesia is also more and more worldwide," said Pitana, through a press release received by Industry.co.id, Saturday (29/07/2017).
Therefore, according to him, it is time for Indonesia to do "coffee diplomacy" for coffee to be its own brand that reminds the world community about Indonesia.
"It is expected that coffee is in the 'top of mind' of society abroad to Indonesia, just remember Indonesia remember coffee so vice versa," he said.
For that purpose, his side often make coffee as a means or accessories when promoting Indonesian tourism in international arena.
The Indonesia-Sarawak Coffee Festival event is also expected to be one of the efforts to promote Indonesian coffee. Moreover, two countries have a similar coffee drinking culture.
Noted Malaysia imports Indonesian coffee as much as 106,555 tons of coffee beans from Indonesia as the data of the Ministry of Agriculture in 2015.
In addition, according to the Consul General of Indonesia in Kuching Jahar Gultom when inaugurated the event at City One Mega Mall Kuching, Saturday, said it invited the best coffee producers, farmers, suppliers, and coffee distributors from Indonesia including Medan, Bandung, Lampung and Pontianak.
"I hope this event becomes a forum to socialize and cultivate the coffee drinking movement to the people in Sarawak as a healthy habit to drink one cup of coffee a day," he said.
Several events held at Center Hall Metro Jaya Metro City Entrance Area One Mega Mall Kuching include coffee exhibition, networking and business matching, coffee cupping followed thousands of visitors, coffee workshop, coffee talk, demo barista, lucky draw, and Indonesian movies Screening.
The festival also features special performances by senior singer Hetty Koes Endang who entertained the visitors with three songs that became the favorites of Malaysian society among them the song titled Bulu Romaku.
"With this festival, it is expected to provide added value and strengthen cooperation relationship between Indonesia and Malaysia," added Jahar.