PT Freeport Closed Mine Next Year's
By : Herry Barus And Aldo Bella Putra | Tuesday, April 17 2018 - 23:43 IWST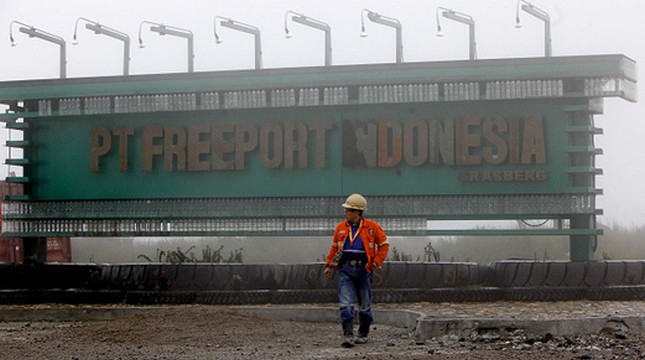 PT Freeport Indonesia. (Dadang Tri/Bloomberg)
INDUSTRY.co.id - Timika- PT Freeport Indonesia's management will close the operation of the open gold mine in Grasberg, Mimika Regency, Papua Province, so that the production of American mining company will be reduced drastically starting next year.
EVP Sustainable Development PT Freeport Indonesia, Sony Prasetyo, in Timika on Monday (16/4/2018) said Freeport production in 2019 will be reduced by 80 thousand tons per day from the previous could reach 200 thousand tons per day.
"This is a technical condition, the open pit at Grassberg is about to close, 2019 is expected to stop, now it can no longer be exploited, the only way we are exploit from below or under ground," said Sony.
Meanwhile, said Sony, underground exploitation is not ready because there is still to be resolved, including the mining permit.
Nevertheless, if the government gives permission for exploitation, underground mine, then it can not be up to 2021 or 2023.
"So this is a fair matter because it is related to the rules and clearly has an impact on production because the open mine is starting to decrease while the under ground is not yet maximal, therefore it takes time," he said.
Under these circumstances, Sony acknowledges that it will have an impact on several related issues such as revenues including partnership fund support to LPMAK.
"For that I remind LPMAK to be able to get ready starting in 2019 they have to efficiently use the existing funds Program do not be grandiose," he said.
In addition, when asked about the possible efficiency of employees, said Sony, it is not easy.
He admitted that he had not seen the possibility that it happened because employees for Freeport were a valuable asset.
"I have not seen that.For this company, an employee is a valuable asset so it will not be easy.That's fair in how efficiency is in business but then again what I say is that it will not be easy let alone layoffs.
To that end, he hopes that the government and the Freeport team of negotiations will not take too long to decide on a number of related issues because otherwise it should not affect employees, families and communities. (Ant)